Translators visited the museum in Krefeld
What was a Dutch teacher from Deventer doing on the central computer at Haus der Seidenkultur (HdS)? Answer: The Dutch teacher is Harold Pieters (54) and he translates the texts from the HdS Internet platform (www.seitdenkultur.de) from German into Dutch. "In this way our neighbours from Venlo, Den Haag and Amsterdam and the surrounding areas can more easily find out about our organisation", says Chairman of the Museum, Hansgeorg Hauser describing the new service.
The translation project was initiated by the HdS museum volunteer Jürgen Reck. "During the volunteers' excursion last year, a Belgian called Antony Vanslembrovck (74) gave the group a guided tour in the cathedral in Xanten. We were so fascinated by his combination of information and humour that I asked him whether he could possibly translate the German texts into Dutch for us", says Reck.
As the Flemish speaking Belgian was well aware that Dutch and Flemish are slightly different, he asked his friend from Deventer to proof-read the texts. In the end it was Pieters who completely took over the project.
Recently all those involved met in the museum in the Luisenstrasse in Krefeld. Now that we have visited this amazing organisation we are particularly proud to be able to contribute to this great jewel," said the two gentlemen from the Benelux who were served an original "Niederrheinische Kaffeetafel" at HdS as a thank you for their voluntary work.
In addition the new Benelux friends each received a necktie with one of the nostalgic patterns which were once woven at the Hubert Gotzes weaving workshop for ecclesiastical textiles. By the way: The Dutch word for necktie is "stropdas", and this will also be communicated in the Internet by HdS in future.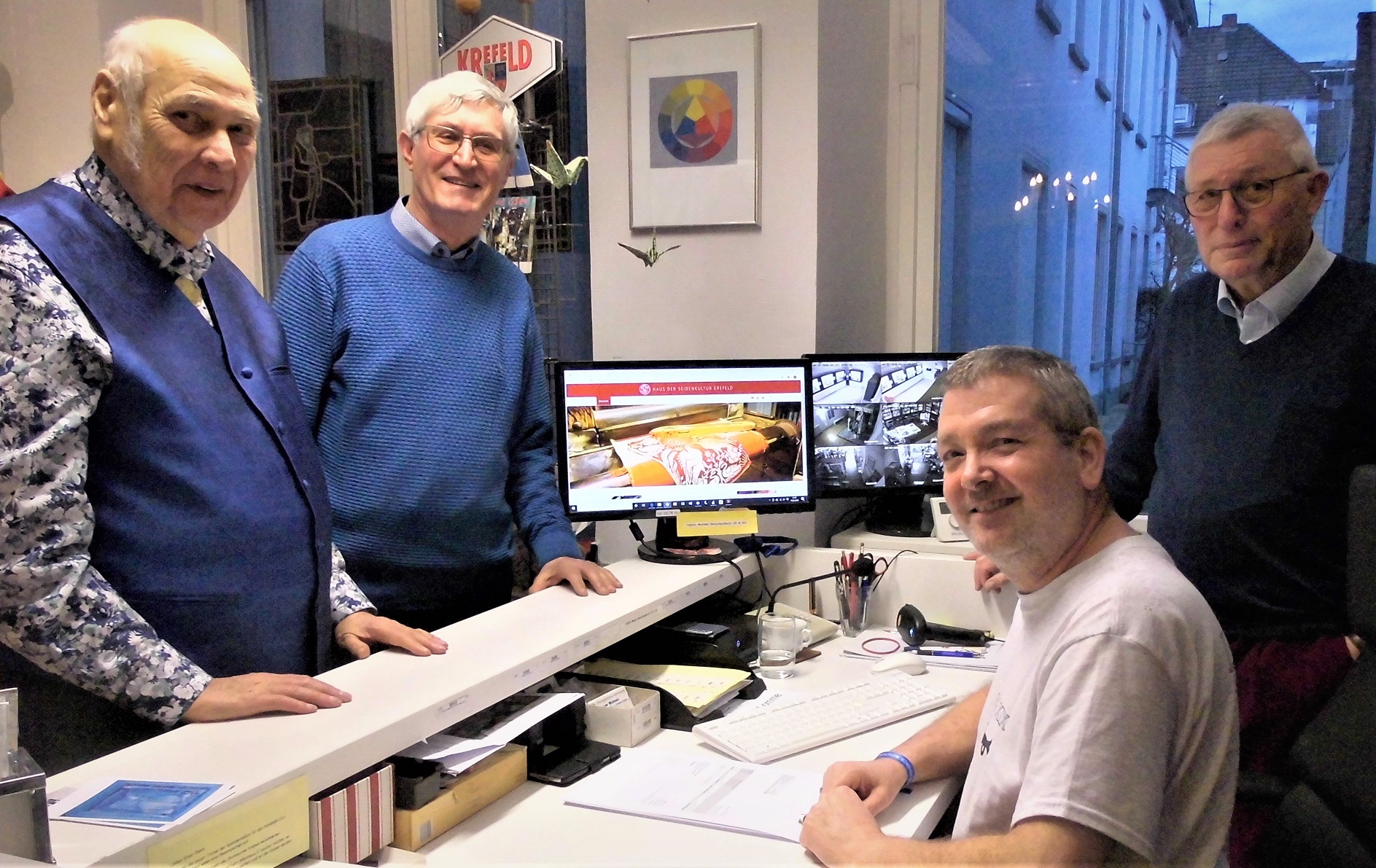 The Benelux translation team at the central computer at Haus der Seidenkultur (HdS). Our picture shows (left) Chairman of the Museum Hansgeorg Hauser, Antony Vanslembrovck, Harold Pieters and Jürgen Reck, who established the contacts in the neighbouring countries.
HdS-Photo: Brenner