The temporary exhibition "Pioneers of Textile Design" which will run until 24th November 2019 at Haus der Seidenkultur (HdS) reflects on the Bauhaus Centenary in Krefeld. The main focus is on the artistic and educational merit of Elisabeth Kadow and Immeke Mitscherlich who lectured during the Bauhaus period at the Textilingenieurschule (Textile Engineering College) (TIS) in Krefeld.
Elisabeth Kadow was responsible for the Print Design class from 1945. In the year 1958 she became head of the master class for Textile Art taking it over from Georg Muche as his successor and was responsible for this class until 1971. Immeke Mitscherlich directed the Fashion Class III (Fashion Graphics) at the TIS from 1951 to 1965.
The exhibition is rounded off with a current project developed in cooperation with Professor. Annette Pöllmann - former student of Elisabeth Kadow and Georg Muche at the TIS in Krefeld. An artistic object created by the Krefeld-based artist served as a template for the patterning on a collection of silk shawls and scarves which have been produced as a limited edition of 200. The influence of Bauhaus teaching is definitely noticeable in the design concept.
At the vernissage half of the collection was already sold. "When the programme "Bares für Rares" (similar to "Flog It") is still going in 50 years and you arrive with a shawl or scarf from this collection, then the purchase price of € 77.- will have more than doubled", says the HdS press spokesperson Dieter Brenner thinking of a possible investment for the future.
Thanks to a lucky circumstance an original item from the work Elisabeth Kadow is on display in the exhibition. HdS received this item as a donation.
"The Centenary of Bauhaus" is being celebrated throughout the Federal Republic this year. The legendary college for design founded in 1919 in Weimar and moved six years later to Dessau was closed by the National Socialists in 1933.
The curator of the HdS exhibition is Dr. Ulrike Denter. It is open to visitors from 19th May to 24th November during the normal opening hours of the museum: Wednesdays to Fridays from 15.00 to 18.00 hours and Sundays from 13.00 to 17.00 hours. Groups with a booking are not restricted to these opening times. Bookings can be made under telephone 02151-9345355 or per email to This email address is being protected from spambots. You need JavaScript enabled to view it.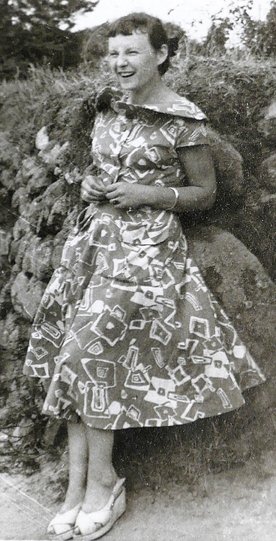 A private photo of Elisabeth Kadow from the year 1950. She is wearing a dress designed by the Print Design Course at the TIS (where she lectured).