"The museum shop has set itself the task of keeping the heritage of the Hubert Gotzes Weaving Factory for Ecclesiastical Textiles alive," says Chairman of the Association of Friends, Hans-Georg Hauser. "And: "The income from sales is of fundamental importance as we do not receive any public subsidies." Therefore: "Without the income from Christmas business we would not be able to carry out our cultural activities for Krefeld to the current extent.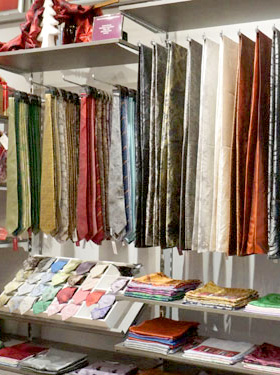 "In the wide-ranging collection there is a selection of historically significant patterns combined with the unique quality of grège silk, all "made in Krefeld". For the ladies there are various shawls and scarves. Very fashionable jackets can also be made upon request. For the gentlemen there is also a wide choice of neckties, bow-ties, scarves and pocket handkerchiefs for special occasions.
We are looking forward to your visit.
All prices on request!
In addition to our museum shop collection, we also sell fabrics for confection, interior and upholstery.
---
The museum shop is open:
Wednesday, Thursday and Friday from 3 to 6 pm
Sunday from 1 to 5 pm.
You can reach us at the opening time by phone 0049 (0)2151 936960 and email: This email address is being protected from spambots. You need JavaScript enabled to view it.