To bring old textile craftsmanship to life is the goal of our team from House of Silk Culture once again perfectly implemented at the Flax Market. After a two-year Corona break, all players were particularly motivated. The visitors, who were able to look live and in color over the shoulders of our weavers and a patron during their unusual activities in the nostalgic spinning room, were inevitable.
Our contribution in the courtyard, where we illustrated the route from the silkworm had built up to the silk thread. The unrolling of the silk thread from the cocoon - called reels - was one of the eye-catchers for the amazed visitors.
One ​​of our highlights here was our flax market quiz. In the meantime, the riddle has been solved: Exactly 1155 (glass) pearls shimmered in a vessel that we had set up at our stand in the Linner Burghof for three days during the Flax Market. Among the 500 or so visitors who took part in our quiz was Christoph Buysch from Krefeld, who with his estimate – 1158 pearls – only "shot over" the target by three pearls, but thus came closest to the solution.< /span>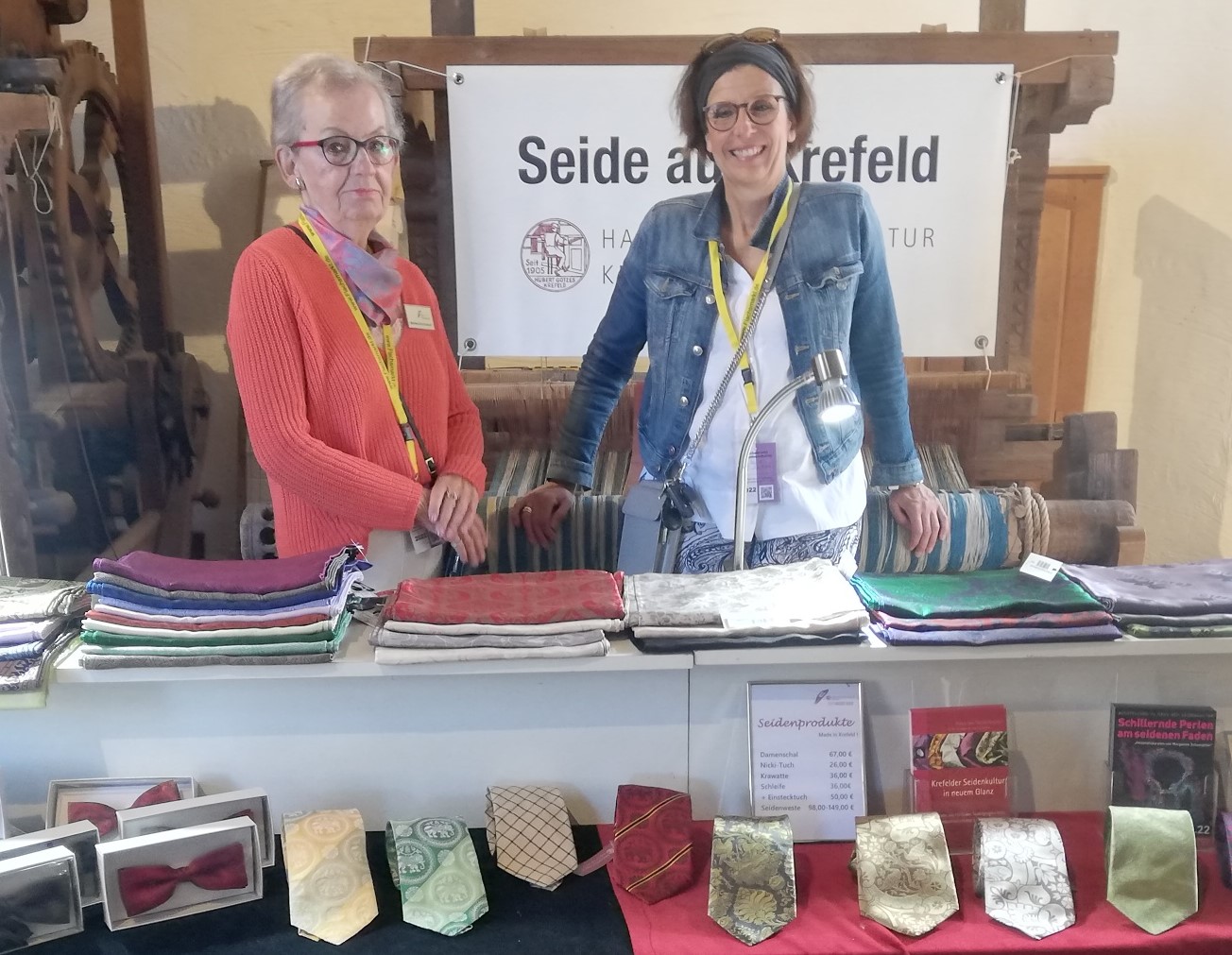 Marlies Schumacher-Kemme had silk from Krefeld (left) and Ilka Neumann in the Flachsmarkt range.
As the main winner of our promotion, he can now create a group of 15 people and visit our museum on the desired date, where he is greeted with a champagne reception and given an exclusive tour of the former parament weaving mill.
Barbel Paashaus was also just off the mark, counting 1150 pearls and thus won the 2nd prize. With 14 people of your choice, we are now inviting the woman from Krefeld to a "walk through the city along silken paths." The third prize goes to Sebastian Feldhaus from Moers, who will receive two free tickets for a visit to our museum in the mail. He wrote down the number 1143.
The estimates ranged from 100 to 20,000 beads that Nadja F .from Neuss suspected. Clever wanted to be a participant who entered "500 to 600 pearls" as an answer on the solution coupon. We would like to thank everyone who took part in the campaign, which we carried out based on our current exhibition "Iridescent pearls hanging by a thread".
A special thanks goes to Ina Wasser, who brought us from Perlen Groß- and retail "Perlina-Krefeld" supported in the implementation of the campaign. The exhibition – which is dedicated to the (textile) art of beadwork – can be seen in our House of Silk Culture until December 11th.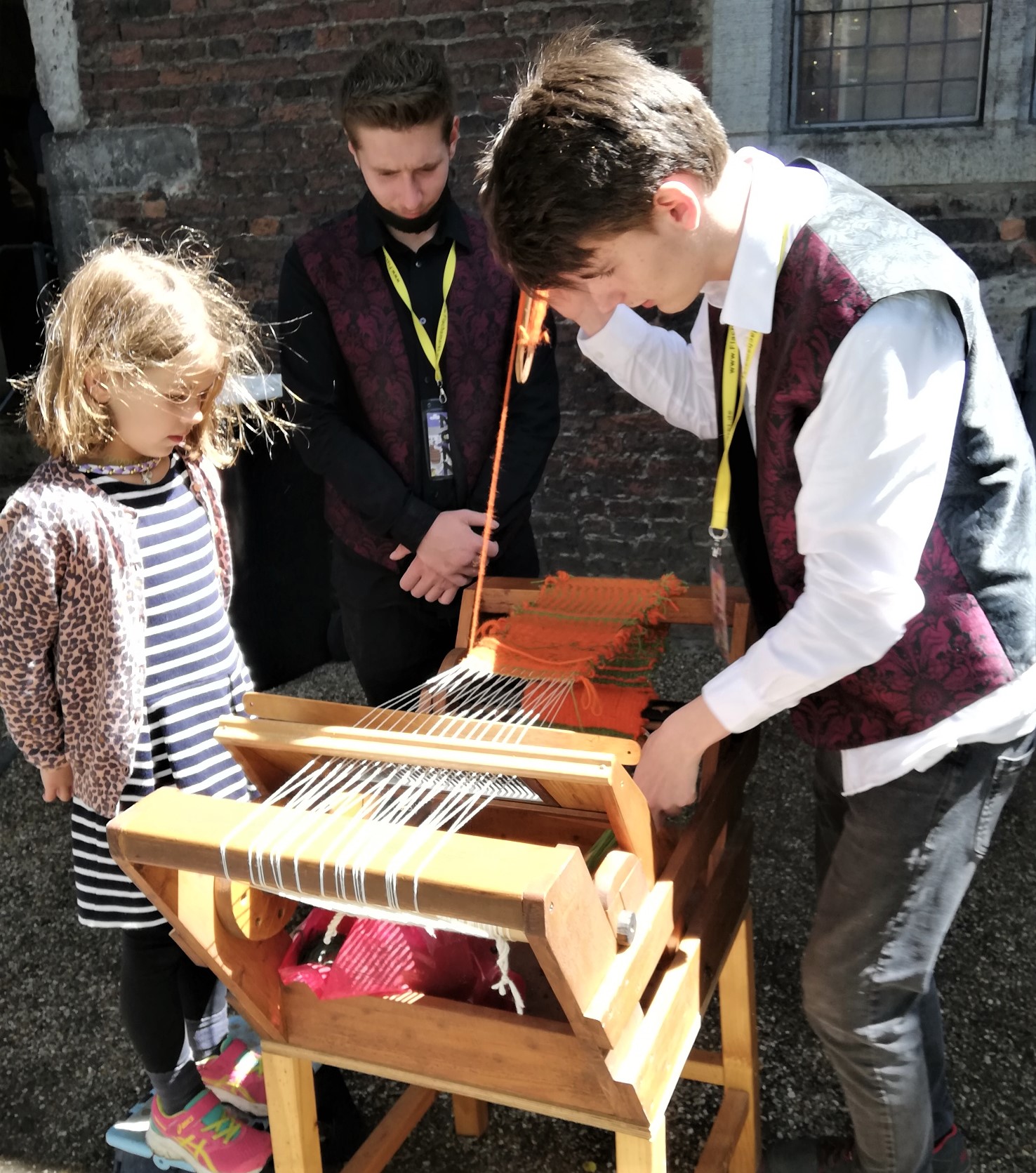 Timo (left) and Elias provided assistance with the children's loom, the youngest members of the Haus der Seidenkultur team.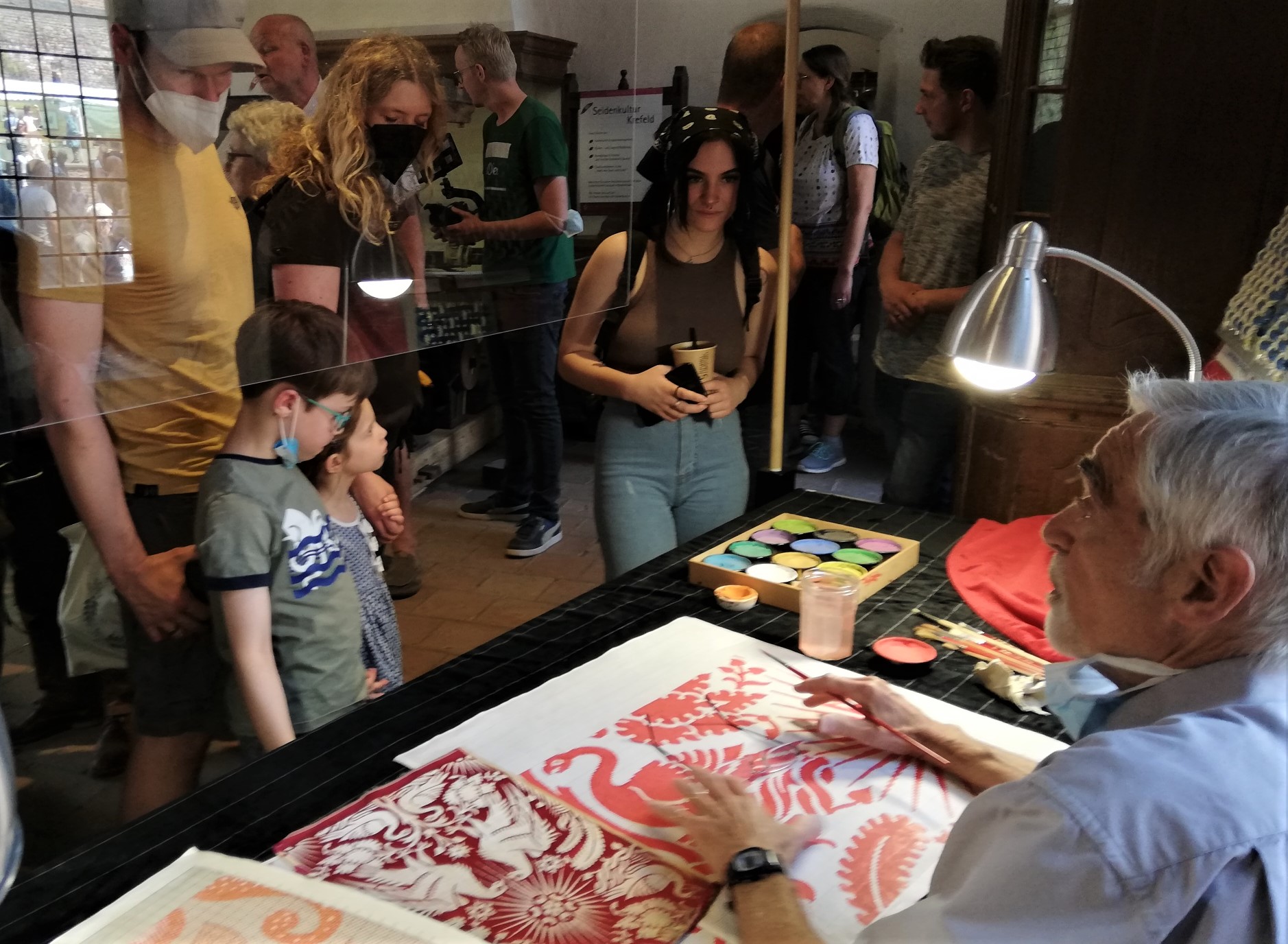 Our patron Dieter Blatt explained the preliminary stages of weaving, where pattern draftsman, patron and card beater were once in demand.
Our head of the museum, Hansgeorg Hauser, was awarded the Rheinlandtaler "as a patron of Krefeld culture" at an impressively festive event. "Hansgeorg Hauser is a doer with moderator qualities," headlines the Westdeutsche Zeitung (WZ) and writes: "Hauser is a team player who can forge networks; earlier in my job and to this day for art. In addition, the head of the House of Silk Culture likes private initiatives that preserve valuables. That's why he wanted the Uerdinger sewage treatment plant as the venue for his honor."
And there came with LVR director Ulrike Lubek and deputy chairwoman Karin Schmitt-Promny (photo) the head of the regional association Rhineland highest self. Around 130 guests celebrated the festive event with Hauser, which was accompanied by music from Stephan Langenberg and his bandoneon. "A Krefeld instrument that became known worldwide - not least because of the tango in Argentina," as Krefeld Mayor Frank Meyer stated in his welcoming speech.
The graduates of the nutrition department of the Vera Beckers vocational college took care of the epicurean part. In this all-round successful event, Hauser (83) also said: "I am very happy about the award, which I accept on behalf of everyone!" If you want to listen to this top-class event in the truest sense of the word, in our podcast - here under the News/Podcast section – is that possible.
More photos of this festive event are available at the following Internet address https://eventfotos.lvr.de/rheinlandtaler_Hauser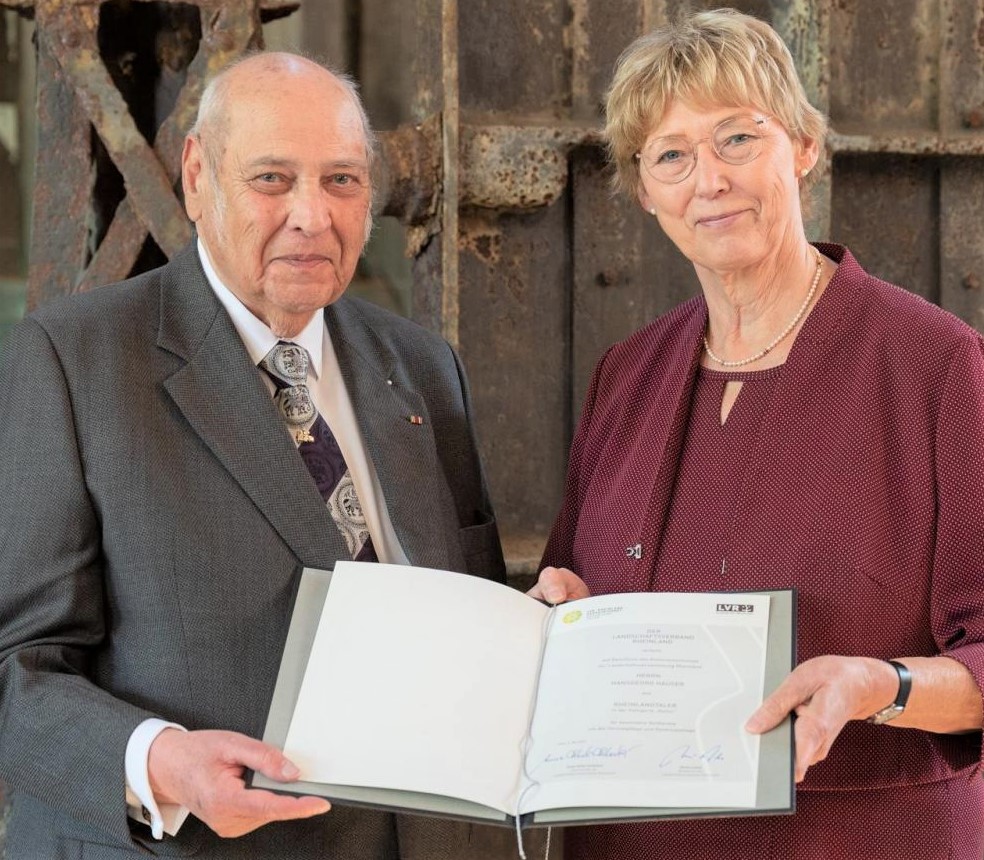 Wie angekündigt ist sie jetzt da: Die überarbeitete Aufzeichnung der Live-Übertragung unserer Vernissage "Schillernde Perlen am seidenen Faden". Zu den schönen Bildern liefern wir jetzt auch einen guten Ton. Ein Klick auf den Button und schon sind Sie im lebendigen Ausstellungs-Geschehen mit dabei. Viel Spaß und gute Unterhaltung wünscht das Team vom Haus der Seidenkultur.
New Exhibition at Haus der Seidenkultur
The recording of the vernissage can be seen here on our YouTube channel.
"Schillernde Perlen am seidenen Faden" (Iridescent Beads on a Silk Thread) is the title of the new exhibition at Haus der Seidenkultur. On show is beadwork done by Margarete Schumacher (1916-2018), who was artistically creative throughout her whole life without ever having received any relevant training.
As an autodidact she developed beadwork to a special art. Without any patterns or preparatory drawings the artist used thousands of extremely small glass beads pictorially in her work and created abstract atmospheric moments in her colour and light nuances.
The vernissage of the exhibition prepared by curator Dr. Ulrike Denter will be broadcast live in the internet next Sunday, 8th May from 11.00 hours. Present too will be Professor Annette Pöllman who also made a name for herself as a Bauhaus artist.
The reason given by art historian Dr. Rita Mielke for the lack of literature about the art of beadwork is that the history of beads was of immense importance for centuries but in recent times it has become more a niche subject which is remote from the mainstream. In the meantime Mielke herself ranks as one of the few experts who have dedicated themselves to this textile art history. Her fascinating insight will be included in the live broadcast in the form of an interview.
Despite having many appointments on Mothering Sunday, the mayor of Krefeld Frank Meyer will participate via video link to make a short welcoming speech to the guests and those who have prepared the exhibition.
The music accompanying the vernissage will be provided by the guitarist Christian Winter, instructor at the Neuss School of Music. The exhibition will run until 11th December 2022 in the museum in Luisenstrasse 15 and can be visited during the opening hours from Wednesday to Friday from 15.00 to 18.00 hours and on Sundays from 13.00 to 17.00 hours. Guided tours can be booked at any time under telephone 02151-9345355 or per Mail to This email address is being protected from spambots. You need JavaScript enabled to view it..
The "entrance ticket" to enjoy the exhibition opening live can be found in the internet under the following address: https://seidenkultur.de/aktuelles/neuigkeiten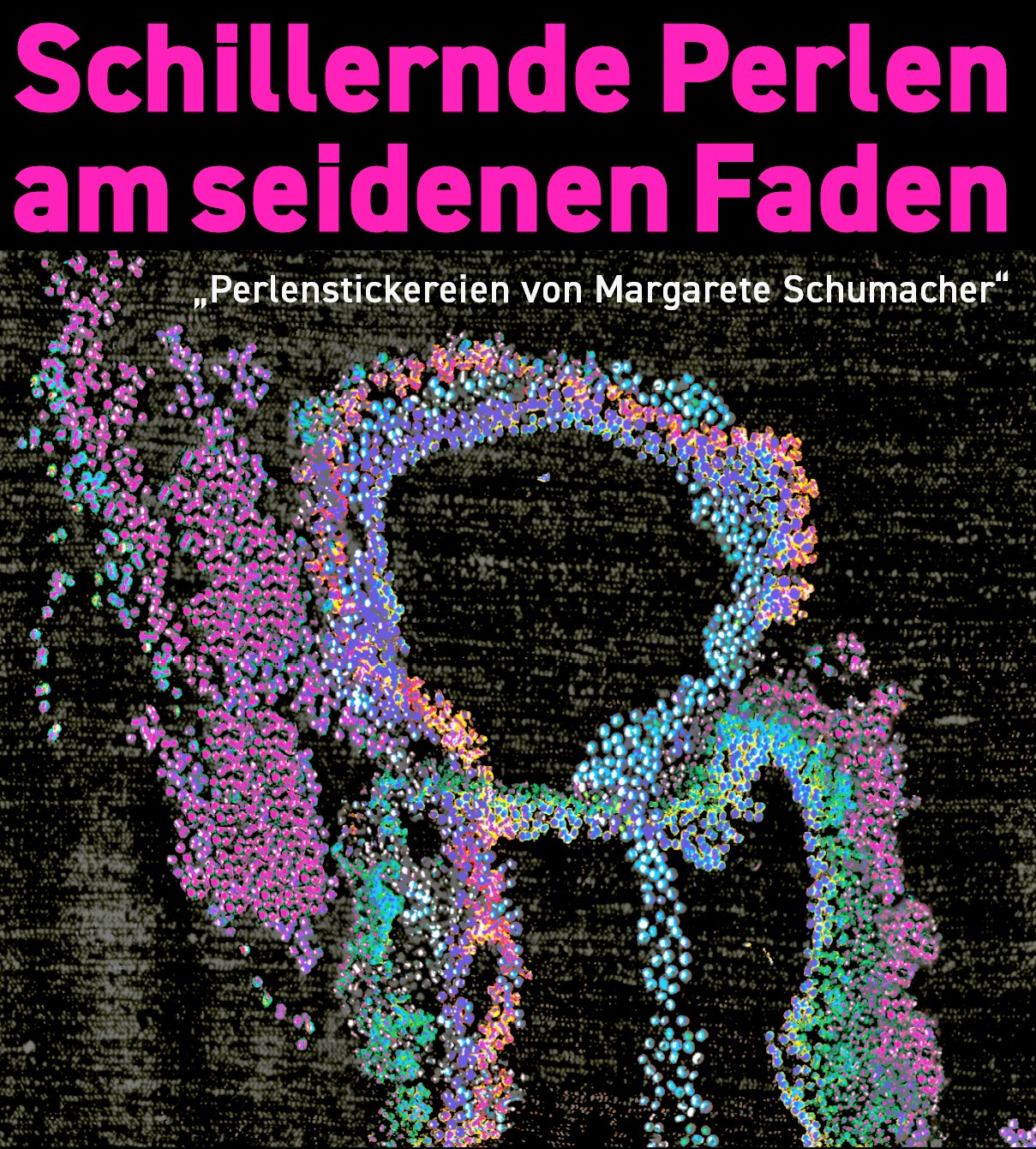 Bereits 2020 bekamen wir vom Haus der Seidenkultur den Heimatpreis der Stadt Krefeld zugesprochen. Jetzt fand die festliche Preisverleihung im historischen Ratssaal des einstigen Stadtschlosses statt. Oberbürgermister Frank Meyer sprach von "der Stunde null der städtischen Ehrungen", die corona-bedingt lange Zeit nicht stattfinden konnten. So wurden dann insgesamt sechs Initiativen mit dem begehrten Preis – der vom Land NRW ins Leben gerufen wurde - ausgezeichnet. Darunter auch die Preisträger des Jahres 2021. In seiner Laudatio sprach der OB mit Blick auf unser Museum davon, dass es kaum einen anderen Ort gebe, an dem sich die "Vergangenheit und Zukunft der Textilstadt so mit allen Sinnen nachempfinden lässt, wie in dem kleinen aber ausgesprochen feinen Museum an der Luisenstraße."
Unser Museumschef Hansgeorg Hauser (rechts neben dem OB) stellte in einer launigen Rede die Einrichtung vor, die aus der früheren Paramentenweberei Hubert Gotzes hervorging. Hauser griff aus der Rede des OB den Passus "unser Haus der Seidenkultur" auf. Im Gebrauch des Pronomens "unser" zeige sich am deutlichsten der Bezug zur Heimat.
Ausführlich berichtete die Tagespresse über die Verleihung des Heimatpreises. Hier ein Link zum Beitrag der WZ "Sechs Auszeichnungen für heimatliches Engagement"
Ausschnitte aus dieser Veranstaltung werden in der ersten Aprilwoche in unserem neu eingerichteten Podcast unter folgender Internetadresse zu hören sein https://seidenkultur.de/aktuelles/podcast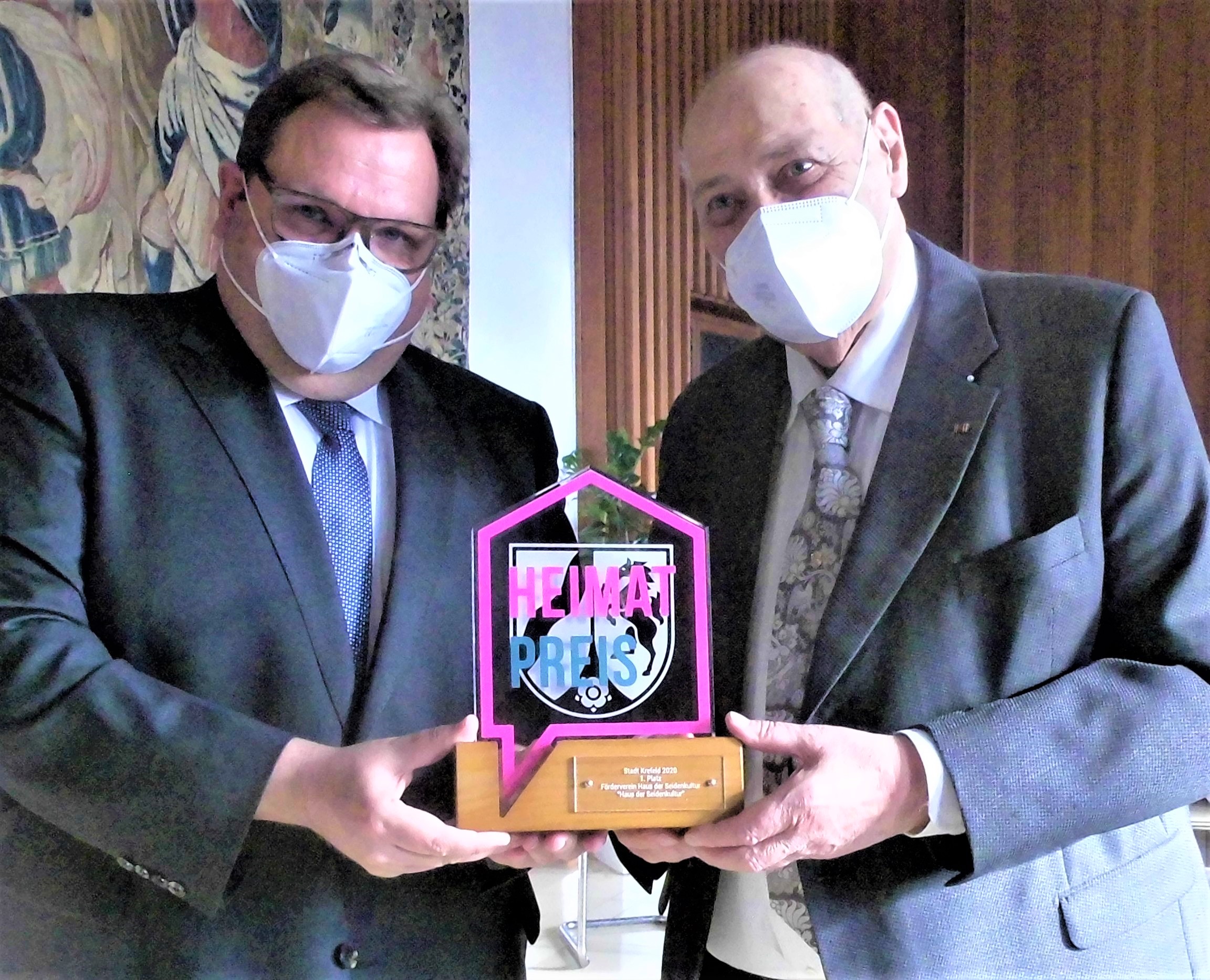 "An avatar will soon guide you through the "Silk Museum" is the title of the WZ in its March 16, 2022 issue on the "Culture in Krefeld" page. Head of Culture Christian Oscar Gazsi Laki states: "The House of Silk Culture is getting fit for the digital future". The positive echo of the contribution, which deals with the "Mingei" EU project, also comes from abroad, where the people involved in the project are looking attentively to Krefeld, where the finale of the measure mentioned is due soon. The half-page article brings the reader up to date; one more reason to publish the article here in unabridged form:
from Christian Oscar Gazsi Laki
It might come as a bit of a surprise – or maybe not – that a relatively small, privately run museum in Krefeld is one of the busiest digitally in the city. And that doesn't just mean the already attractive website of the House of Silk Culture Krefeld in the former Hubert Gotzes parament weaving mill. A professional-looking and informative website is actually a minimum for a museum today, no matter what kind. Although there may still be room for improvement in one place or another in other museums, but that is another long story in a very broad field. It is also still quite "normal" that despite the likeable "handmade" atmosphere in the building itself and also on the videos, exhibition openings are regularly streamed (also available on YouTube afterwards).
It gets spectacular when you hear terms like avatar, digitization and the like from Dieter Brenner. Incidentally, the lively good spirit in the house likes to jokingly refer to himself as a "swashbuckler" in reference to the craft of the "patroneur", who made templates for fabrics. And the charisma of this elderly gentleman, who passionately guides you through the secrets of the Silk Museum and inspires people for the traditional craftsmanship of silk weaving, can also be experienced digitally in the future. This is possible through an EU project called "Mingei", in which the House of Silk Culture is allowed to participate and which aims to "digitize both the material and immaterial aspects of ancient crafts and to transfer the corresponding knowledge. This relates to the presentation, preservation and accessibility of the craft as a cultural heritage" – as can be read on the project website.
"Our museum should also be fun to discover in the future," affirms Brenner, who will be available as an "avatar" with his voice. For individual visitors there will soon be (around April) 20 tablets, with the help of which "the avatar" will guide you through the museum with Brenner's voice. At individual info points there is more information worth knowing in words and pictures. "We want to be attractive for the individual visitor" - says Brenner. The usual way to visit the house so far is in the form of booked groups that are guided through the rooms of the museum. Individual museum guests should "not be left out in the rain."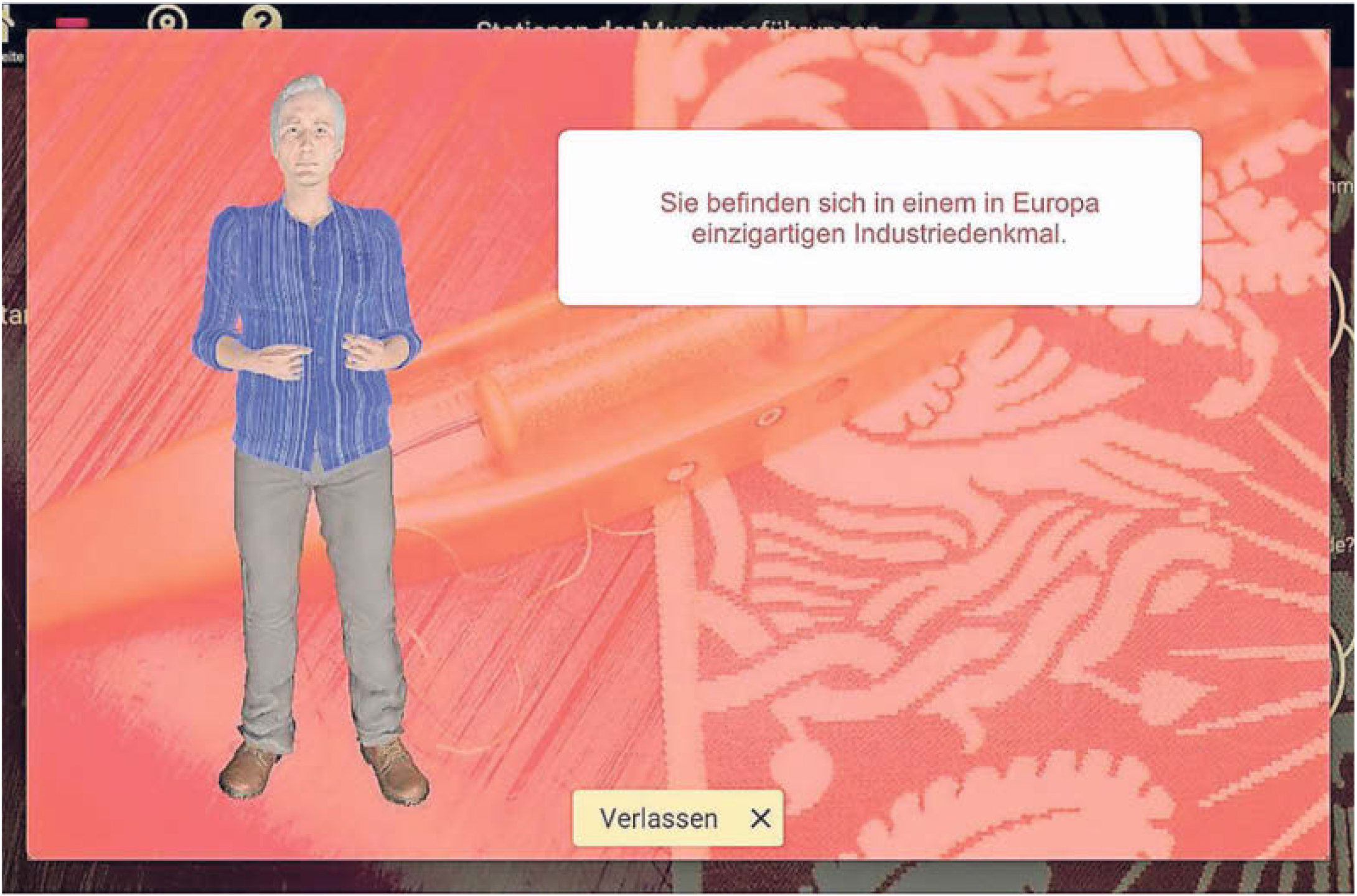 An avatar with Dieter Brenner's voice will soon guide individual visitors through the House of Silk Culture. Photo: Mingei-Projekt
An important step is the Mingei project as part of "Horizon 2020", which goes far beyond the avatar museum guide. Paraments, priestly robes, which were made in the weaving mill at Luisenstraße 15 at the time, are digitized, and the "history of silk" but also the "craft" are digitally documented. For example, the craft of patron Dieter Blatt was recorded for eternity by means of a "motion capture process" - i.e. a digitized recording of movements, as is otherwise used in Hollywood films to fill computer-generated figures with "life". The entire project is estimated at 102,000 euros, 85,000 euros have already been approved, reports Brenner. There are still a number of things that are on the museum's wish list, she admits - and that with voluntary museums, such as the House of Silk Culture, it is by no means trivial to fit into the EU's funding structures.
Museum also has many "analogue" plans for the future
But the House of Silk Culture also has numerous "analogue" plans. So one is in good spirits that there will be participation in the flax market again at Pentecost. With a plan A and a plan B, because if the presentation at the market cannot be successful due to corona reasons, at least a small version should be possible in-house. But Dieter Brenner also likes to talk about the house's plans for the city's anniversary in 2023. After all, it takes time to prepare - the city, by the way, is currently keeping a low profile, but promises to inform the public soon. "We have found a very interesting cooperation partner for the city's anniversary," enthuses Brenner. The old sewage treatment plant and the really hard-working monument protectors from the association for the preservation of the historic sewage treatment plant in Krefeld Uerdingen. Several projects are planned with the association. A large exhibition, for example, with the artist Sonja Weber, who will show large-format works with a textile reference. Smaller exhibits are to be shown in parallel in the Silk Museum. A fashion show is also being planned to take place at the sewage treatment plant - but that is still in preparation.
At the beginning of the year Haus der Seidenkultur (HdS) was accepted as the most recent member of the "European Route of Industrial Heritage" (ERIH). This is confirmed in a decorative certificate which now hangs in the museum in Luisenstrasse 15 for all to see.
The ERIH is an important tourism network with 1850 sites in 47 countries. The aim of the organisation is to link industrial heritage sites and visitor attractions. "The objective is to allow a more in-depth discovery of the industrial landscapes of the respective regions," says Hansgeorg Hauser, head of the HdS museum. And: "Through our membership we can also include the left-bank region of the Rhine in the overall concept."
For those who in future want to discover and see for themselves more about the common roots of European industrial history along one of the topic routes offered by ERIH, Luisenstrasse 15 in the "Town like Silk and Velvet" offers a new link.
The location near to the railway station, a gas works and electric power station in the immediate vicinity provided ideal general conditions in the Wilhelmine period for the development of an industrial landscape in the once noble Krefeld Crown Prince District of Krefeld. It was against this background that the Hubert Gotzes Paramentenweberei – the present HdS – was established.
ERIH-President Dr. Maria Grewing therefore considers the membership of Haus der Seidenkultur to be an "additional asset within the options offered by the tourism network." And: "Each industrial monument, each town, each workers' estate forms part of this initially European and later world-wide development". However, visitors seldom learn anything or only very little about this. At HdS this connection will be emphasised more clearly during guided tours in future.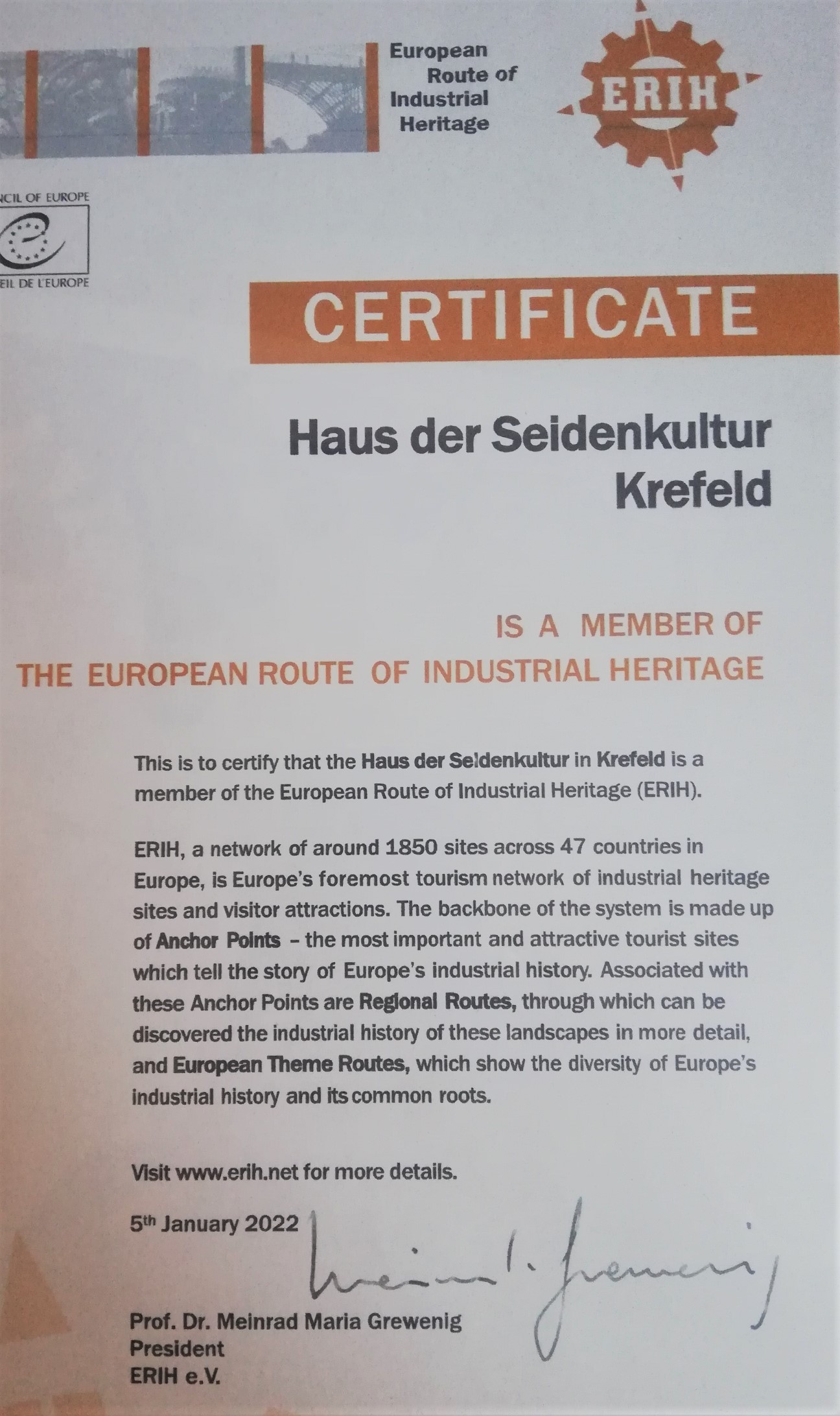 This certificate indicates that Haus der Seidenkultur is now on the European Route of Industrial Heritage.
(veröffentlicht am 11.06.21)
In der ZDF-Trödelshow "Bares für Rares" mit Horst Lichter ging im Mai ein Priestergewand über die (Händler-)Theke, dass nach einer langen Zeitreise jetzt nach rund 100 Jahren wieder an seinen Ursprungsort, der einstigen Paramentenweberei Hubert Gotzes, zurückkam. Dort, dem heutigen Haus der Seidenkultur, bekommt das gute Stück jetzt seinen Ehrenplatz.
Doch der Reihe nach: Vermutlich um 1920 wurde der "Chormantel" – ein liturgisches Gewand, das von katholischen Priestern während der Messe getragen wurde – in der Paramentenweberei Hubert Gotzes angefertigt. Zumindest wurde es in den 50ziger Jahren im Unternehmen an der Luisenstraße 15 in Krefeld restauriert. Von dort landete das schmucke Gewand in Recklinghausen bei einem Ehepaar, das bei "Bares für Rares" einen neuen Besitzer suchte.
In der Fernsehsendung erwarb es schließlich der Kunst- und Antiquitäten-Händler Thorsden Schlößner aus Kreuzau bei Düren. 400 Euro zahlte er für das Exponat, das die Expertin zuvor auf 150 bis 200 Euro geschätzt hatte. Doch genaugenommen war allen klar, dass das mit Goldfäden durchzogene Samt-Exponat weitaus mehr Wert ist. "Würde man heute ein solches Teil in Auftrag geben, müsste man um die 10.000 Euro auf den Tisch legen", schätzt HdS-Sprecher Dieter Brenner.
Letzterer war es auch, der auf dem Facebook-Portal des Museums auf die Sendung hinwies und vermerkte: "Schön wäre es, wenn der Mantel wieder an seinen Ursprungsort zurückkäme; aber ob sich dafür Sponsoren finden?" Und unmittelbar nach dieser Publikation, die auf Anhieb 3000 Klicks verzeichnete, fanden sich die ersten Geldgeber. Darunter der Krefelder Geschäftsmann Peter Oediger. "Mein Vater, der mit Krawatten handelte, hat mich durch seinen Beruf schon an das Thema der Textilstadt herangeführt", sagt Oediger. Und: "Vor diesem Hintergrund war es für mich so eine Art Verpflichtung hier helfend einzusteigen."
Letztlich war es aber Kunsthändler Schlößner selbst, "der seine Händlerinteressen weitgehend zurückgestellt und aus Sicht unseres Museums sehr gut gehandelt hat", wie es Brenner während einer Pressekonferenz formulierte. Schlößner selbst sagt dazu: "Wenn ich sehe, dass ein besonderes Exponat eine besondere Öffentlichkeit - wie die eines Museums – bekommen kann, unterstütze ich solche Projekte sehr gerne."
Nicht nur der Chormantel, sondern auch Thorsden Schlößner selbst fand jetzt seinen Weg nach Krefeld, wo der gelernte Schreiner früher sein Holz einkaufte. Beeindruckt zeigte sich der Händler von der grünen Krefelder Innenstadt und vom Zustand des alten Stadtbades, das der Fernsehmann – der ein Faible für den Jugendstil besitzt – unbedingt besuchen wollte. Auf dem "kurzen Dienstweg" zwischen HdS und Stadtbad wurde dem Wunsche recht kurzfristig entsprochen.
Jetzt bekommt das durch "Bares für Rares" bekanntgewordene Priestergewand im Museum an der Luisenstraße seinen Ehrenplatz. Und damit nicht genug: "Die Sponsorengelder ermöglichen uns, nach weiteren Priestergewändern Ausschau zu halten", sagt Brenner. Eine Kirchenzeitung werde im Raum des Bistums Aachen bei dieser Suche behilflich sein. Daher der Sprecher abschließend: "Für uns brachte Bares für Rares wirklich sehr viel Wunderbares…!"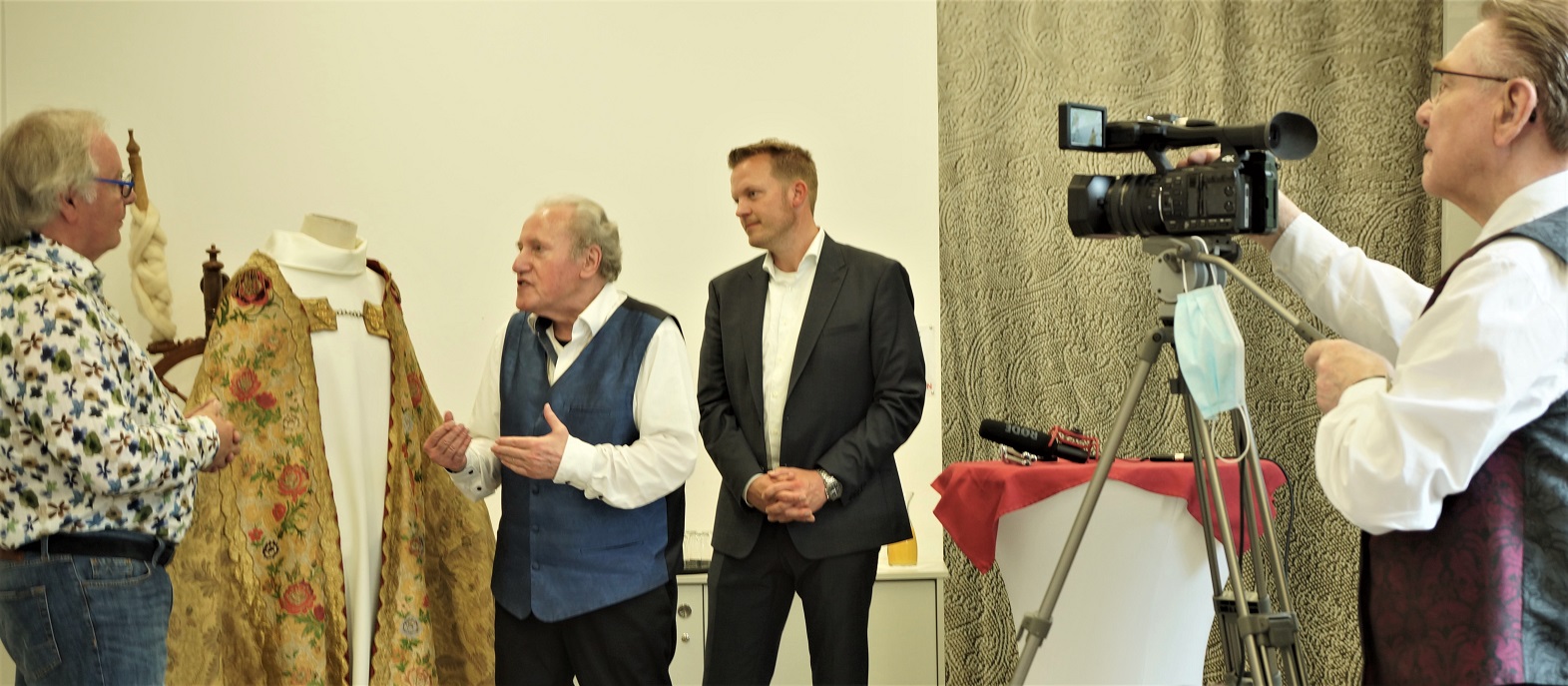 Nach einer langen Zeitreise kommt ein Priestergewand zurück an seinen Ursprungsort. Händler Thorsden Schlößner (links) hat es möglich gemacht, der hier vor laufender Kamera von HdS-Sprecher Dieter Brenner interviewt wird. Rechts im Bild mit Peter Oediger einer der Sponsoren, die dieses Projekt unterstützten.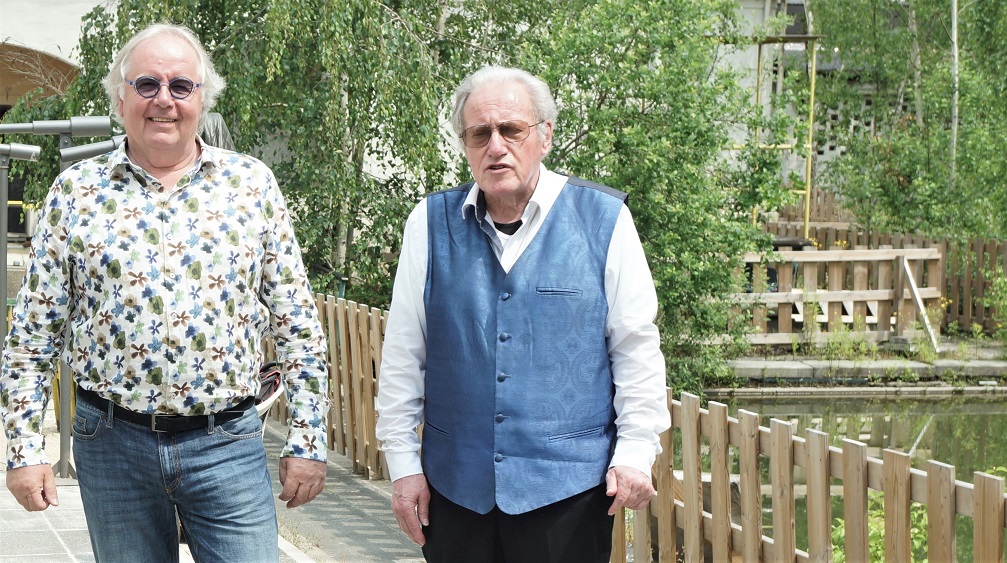 Stippvisite im ehemaligen Freibad inmitten der Krefelder City. Thorsden Schlößner (links), der ein Faible für die Jugenstil-Ära hat, war begeistert.
HdS-Fotos: Christian van Doorn
Eine sehenswerte Sonderausgabe des "Wanderkinos" präsentiert das Haus der Seidenkultur (HdS) zum virtuellen Flachsmarkt 2021. Dafür wurden eigens fünf neue Filme produziert. "Wir lassen die Märkte der letzten Jahre Revue passieren und setzen altes Textilhandwerk in Szene," kündigt HdS-Sprecher Dieter Brenner "so manches Filmschätzchen aus vergangenen Flachsmarktzeiten" an.
Gedreht wurden viele Szenen in der nostalgischen Spinnstube der Burg. Dort – und im Burghof – war das Museum von der Luisenstraße 15 mit seinen ehrenamtlichen Mitarbeitern in den letzten Jahren während der Pfingsttage präsent. Gezeigt wurden jene Textilberufe, die einst den Reichtum in die Samt- und Seidenstadt brachten. Im Mittelpunkt stand jeweils ein Schaftwebstuhl, dessen "Schipp-Schapp" immer viele Neugierige lockte.
Im Film "Schipp Schapp im Sechs-Achtel-Takt" sehen wir Handwebmeister Günter Oehms. An seiner Seite Maximilian Zelzner, der mit seiner Querflöte den Takt des Webers aufgriff und in einer einzigartigen Musikkomposition umsetzte. "Das war auch für mich eine besondere Premiere", erinnert sich Zelzner – Leiter der Krefelder Musikschule "rhythm matters" – an seinen Auftritt auf dem Flachsmarkt.
Im "Wanderkino" werden ferner jene Berufe dargestellt, die den eigentlichen Webprozess erst ermöglichten. Die Rede ist vom Musterzeichner, Patroneur und Kartenschläger. Mit Gerd Karl Janhsen konnte das HdS jetzt einen der letzten Kartenschläger Krefelds gewinnen, der im "Technischen Atelier" des Museums altes (Textilhandwerk) lebendig und lautstark präsentiert. Die Presse und auch der WDR haben ausführlich darüber berichtet.
Die Wegstrecke "von der Seidenraupe bis zum Seidenfaden" wurde im Burghof gefilmt, wo gehaspelt wurde. So nennt man den Vorgang, wenn der Seidenfaden vom Kokon "abgerollt" wird. Nicht nur die Kinder verfolgten mit Spannung dieses besondere Ereignis. Und am Ende herrschte großes Entsetzen, wenn die Seidenraupen zum Essen angeboten wurden; als die sich letztendlich als süße Leckerei entpuppten; da kam dann Freude auf. Titel des Films: "Ein Kleid aus Raupenspucke."
Szenenwechsel: Der Focus ist auf edle Seidenschals und Krawatten gerichtet, die mit historischen Mustern einst in der Paramentenweberei Hubert Gotzes - dem heutigen Museum – verwebt wurden. "Der Verkauf auf dem Flachsmarkt war für uns stets eine sichere und wichtige Einnahmequelle zur Finanzierung unseres Museums", heißt es dazu aus dem HdS-Vorstand, der jetzt für den Online-Shop wirbt, welcher rund um die Uhr unter folgender Internetadresse geöffnet ist: https://seidenkultur.de/shop/online-shop
Für die filmische Umsetzung des "Wanderkinos" hat das HdS erneut den "Covestro Foto-Film-Club Krefeld" gewinnen können. Deren Vorsitzender, Wolfgang Volker, ist zugleich im HdS-Team fest verankert und von daher gut im Thema, wenn es um Samt- und Seide geht. Und hier ist das Ticket für die Sonderausgabe des Wanderkinos zum Flachsmarkt 2021; einfach folgenden Link im Internet anklicken und schon hebt sich der Vorhang https://covestro-ffc-krefeld.de/wanderkino
Und hier ist der Link zum offiziellen Flachsmarkt-Portal, wo man das HdS in der Spinnstube und im Burghof trifft. "Auch über die Eingaben Patroneur, Weber und Kartenschläger findet man unseren virtuellen Stand auf dem Flachsmarkt 2021", sagt HdS-Sprecher Dieter Brenner, der das Drehbuch für die Filme schrieb.
https://www.flachsmarkt2021.de/
Das Wanderkino hebt seinen Vorhang pünktlich Pfingstsamstag, 22. Mai um 10 Uhr. Die Filme werden den ganzen Sommer über zu sehen sein.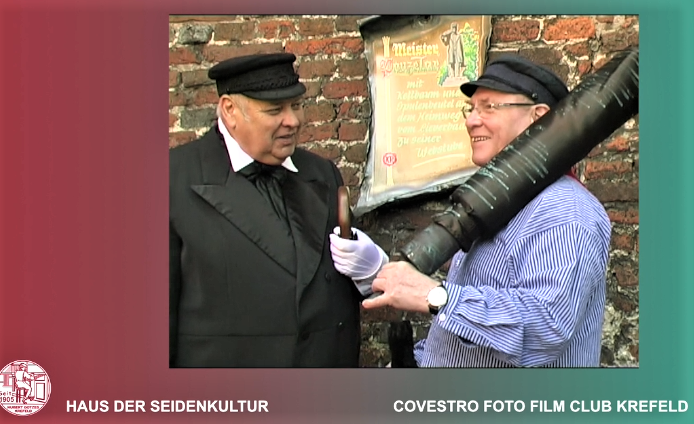 Meister Ponzelar (Weber Manfred Weisters) und Cornelius de Greiff (dargestellt von HdS-Museumschef Hansgeorg Hauser) besuchten regelmäßig den Flachsmarkt.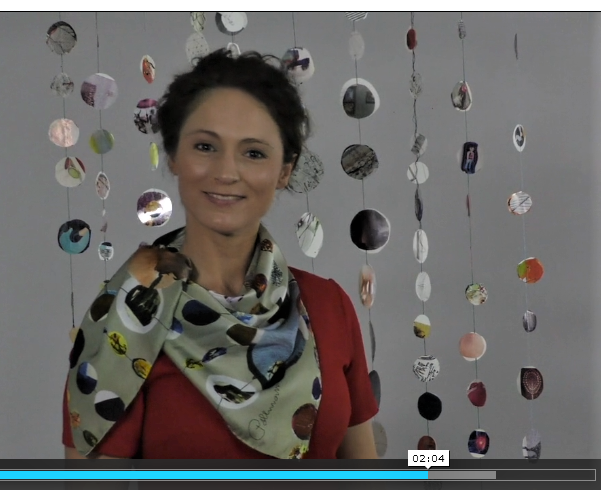 "Seide pur für die Krefelder Kultur" ist der Titel eines der Filme, die jetzt in der Sonderausgabe des "Wanderkinos" zum Flachsmarkt zu sehen sind.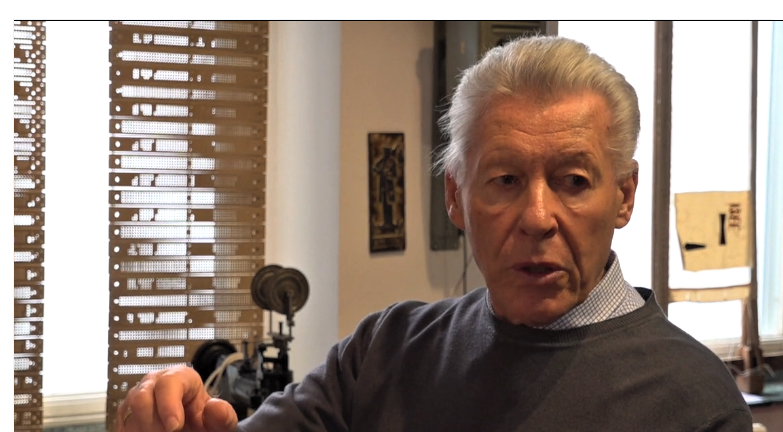 Krefelds letzter Kartenschläger, Gerhard Karl Janhsen, ist beim virtuellen Flachsmarkt mit von der Partie.
Fotos: HdS
(veröffentlicht am 05.10.20)
"Luisa's story also also touched Krefeld" read the heading of an article in the Rheinische Post about the fate of a young woman who was fighting for her life in Sevilla because of Corona. In addition the reader learns that "Haus der Seidenkultur is participating in appropriate campaign".
Ilka Neumann, HdS committee member, explains the connection between Luisa and our museum. Luisa Marie Meißner is a 22-year old from Düsseldorf who has completed a fashion design qualification. For her final qualification collection "Quipuia – La Fantasia anudada" (which means knotted fantasy) she selected fabrics from Haus der Seidenkultur.
Luisa's collection describes its own history. The silk with the circle pattern was woven specifically for the collection. Symbolically the sun which was already a symbol for integrity and equality amongst the Inkas was woven into the radiant golden silk.
Neumann describes Luisa as being innovative and full of life. She was therefore more than shocked when she learned that the designer had become ill with Corona in March 2020 during her internship in Spain. She was taken into the intensive ward of the hospital when she was put into an artificial coma straightaway. "It is a wonder that she is still alive," says Neumann.
Today Luise is living in the shadow of her illness. She still uses a wheelchair or walks short distances with a walking frame. Neumann: "she still needs further therapy and time. Time for her lungs to regenerate, to re-learn how to walk and to cure her neurological and psychological deficits."
Against this background HdS has decided to support a charity event for Luisa. During the "Herbstzauber" event held at the Krefeld steeplechase track we drew attention to the fate of Luisa. Anyone who wishes to support Luisa's long path back to life can find more information in the Internet under "Spendenkonto Licht für Lu" (donation account):
http://www.leetchi.com/de/c/rEGVNK7w


Bildtext:
Luisa Marie Meißner created a link to the knot language (Quipu) used by the Inkas using fabrics from Krefeld. Photo: Luisa Meissner
"Herbstzauber" – an event at the steeplechase track – was a suitable platform for us to draw attention to the fate of the young designer.
HdS Photo: Marlies Schumacher

Luisa Marie Meißner created a link to the knot language (Quipu) used by the Inkas using fabrics from Krefeld. Photo: Luisa Meissner.

"Herbstzauber" – an event at the steeplechase track – was a suitable platform for us to draw attention to the fate of the young designer.
HdS Photo: Marlies Schumacher
(Published on 28.08.20)
The first live broadcast from our museum was a complete success. "You must definitely do the same again in future", the Mayor of Krefeld Frank Meyer told museum chairman Hansgeorg Hauser. I sincerely congratulate you all on the successful premiere with the live broadcast to open the exhibition "Dog Whelks and Dyers' Woad". Perhaps this is the beginning of a new era in which Haus der Seidenkultur (HdS) came reach a much wider circle of those interested, wrote Dr. Hermann Schumacher, Chairman of the Creinvelt Association.
Here the feedback from Achim Wahl: "From my couch at home I was able to watch a very good and well planned exhibition opening. This certainly opens up new perspectives for the future regarding the presentation of our museum and our work." And Klaus Drenk stated: "The HdS team has once again set new standards and positioned itself at the forefront of a new development." The broadcast can be accessed via the link https://www.youtube.com/watch?v=67JzJDgy1sc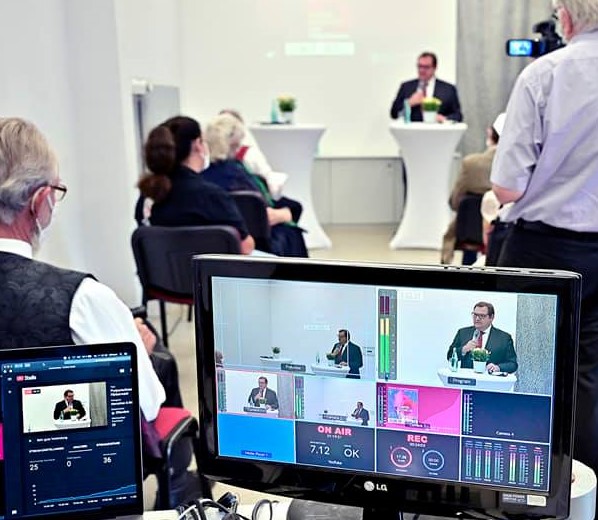 Andreas Bischof recorded what it was like behind the scenes during the broadcast. At the press of a button it was decided which picture from HdS went on air. .


Our curator Ulrike Denter (right) with Birgit Sievers-Schmitz. The god-daughter of the deceased textile engineer Gerhard Schlichtmann provide numerous exhibits for the exhibition which Schlichtmann had already contemplated during his lifetime. Mrs Sievers-Schmidt and her husband
HdS-photo: Christian van Doorn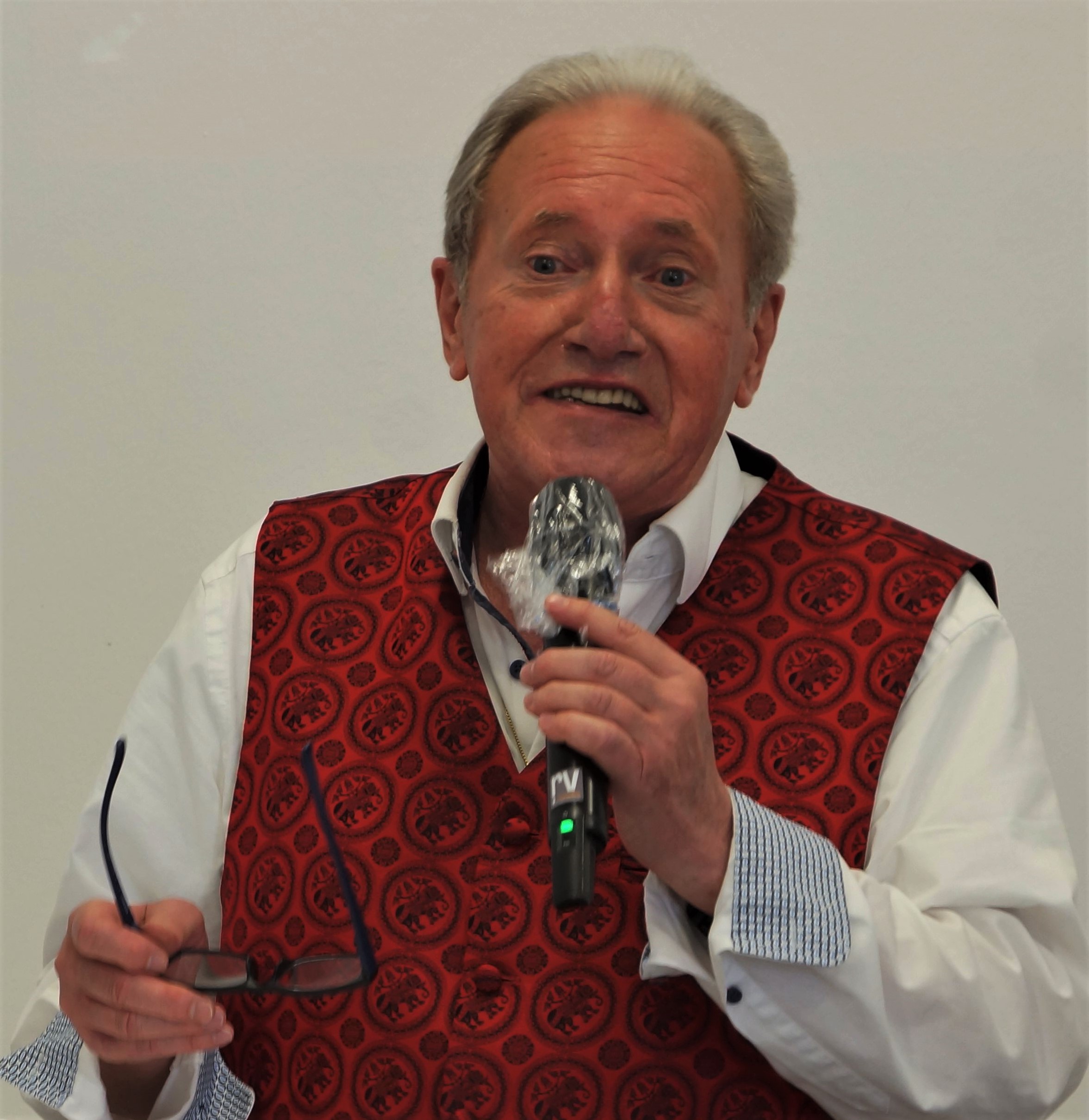 Press-spokesperson Dieter Brenner presented the first live broadcast from Haus der Seidenkultur.
Hd Photo: Christian van Doorn
This is an important premiere at Haus der Seidenkultur (HdS): The opening of the next exhibition "Dog Whelks and Dyers' Woad" will be broadcast live in Internet in YouTube on Sunday, 23rd August starting at 11.00 hours
The exhibition opening will not just be filmed but expertly staged by the Covestro-Foto-Filmclub and video experts from the company yps. This means that all the friends of HdS can follow what is happening in the museum live.
If only a few people can actually be present in the museum due to Corona, then we simply go to the visitors", says HdS press-spokesperson Dieter Brenner about the live broadcast premiere which was sponsored by the Sparkasse Krefeld.
Musical highlights from HdS events in the past year will visually and aurally complete the programme. A pleasure which the mayor Frank Meyer who will be present "live" at HdS doesn't want to miss.
If you wish to follow the event live you will find your "entrance ticket" in the Internet under the following links
https://youtu.be/DKWEy-n_x8g
or
https://www.youtube.com/channel/UC2hqWhf78m34FcSxWqrngIw/live
More about the content of our new exhibition which delves deeper into the development of textile dyeing can be found on this platform under Options/Exhibitional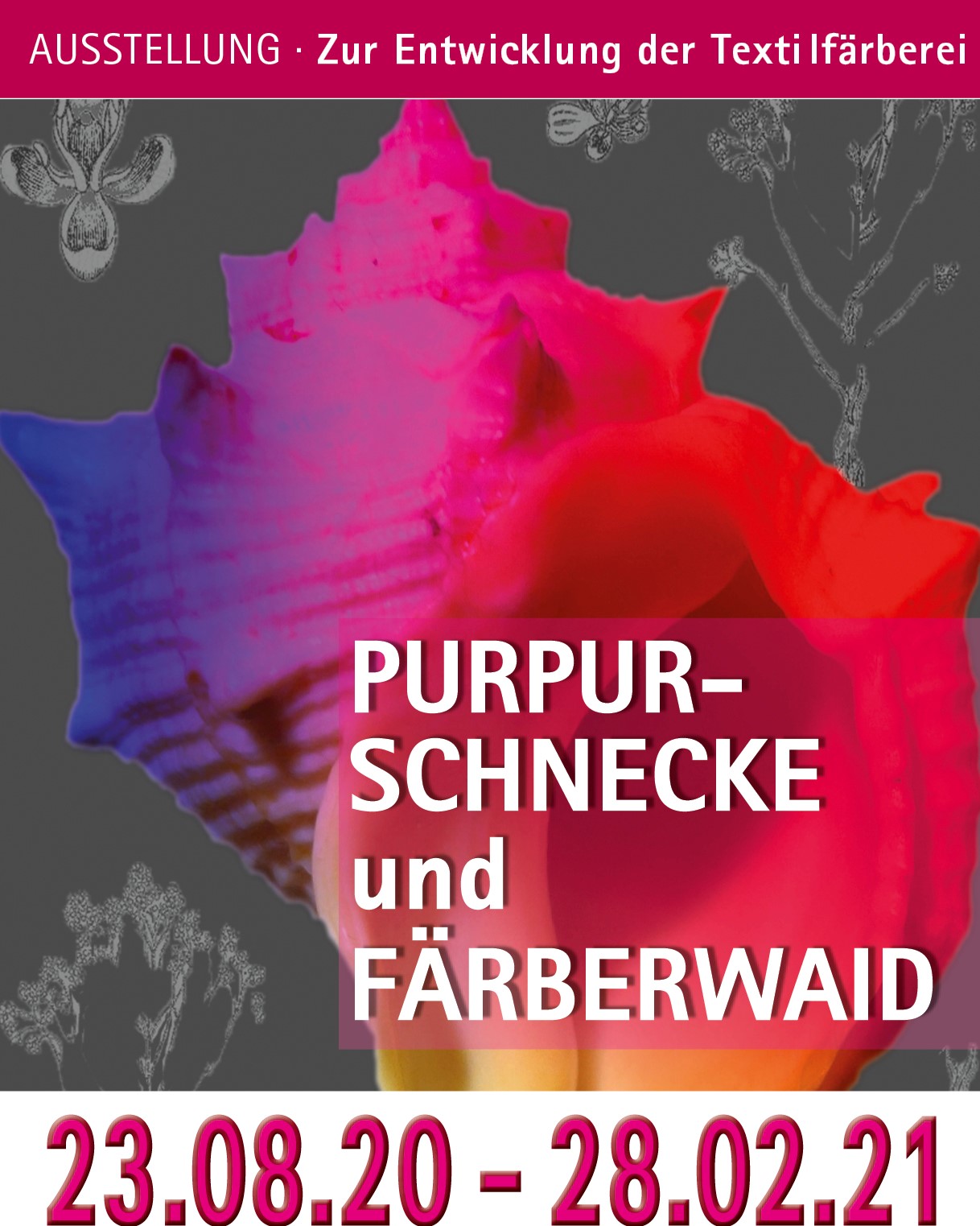 Martha Prell was one of the first fashion designers in Krefeld. The creative lady studied at the Höhere Fachschule für Modegrafik und Mode (College for Fashion Design and Fashion), the forerunner of the Textile Engineering College, from 1940 to 1943. She was taught by Elisabeth Kadow, who made a name for herself in Krefeld as a Bauhaus graduate.
Today at the grand age of 95 years, Martha Prell is publicly exhibiting her fashion designs for the first time. This unique premiere is currently taking place at Haus der Seidenkultur (HdS). "We have dedicated a small studio exhibition to the designer in the historic tradesmens' corridor of our museum" says curator Dr. Ulrike Denter. She has succeeded in drawing the attention of the public to this rather modest and reserved textile artist. Now the widely travelled lady came to HdS to see the exhibition for herself.
"Even when I was a child my drawings were enthusiastically received by those around me", Prell told our press spokesperson. She broke her leg at the age of ten and lay in hospital. "All the nurses wanted to see the drawings which I had made whilst lying in bed", she remembers.
A great deal of persuasion was needed to convince her parents to let her embark on a career as a pattern designer as a young girl in 1940. Her father, who liked to sketch horses, did, however, give her support. Elisabeth Kadow very quickly recognised the talent of the young student who, with the backing of the well-known patron, was gladly accepted for a place at the "Lette School" in Berlin, an institution which served many young artists as a stepping stone into the fashion world.
And consequently some years later Martha Prell found herself at the fashion house "Schloss Grafenberg" near Düsseldorf. Here she designed creations for the high society of the time. "I was allowed to create fashion designs for star actresses like Elisabeth Flickenschildt and Christiane Hörbiger", remembers Martha Prell looking back at an illustrious past which has now, in small measure, become alive again at Haus der Seidenkultur.
"We regard this small additional exhibition as the icing on the cake of what our museum offers. The aim is to provide an additional argument for visiting Haus der Seidenkultur in Luisenstrasse 15 in these times of Corona", says curator Ulrike Denter. This exhibition can be viewed until the end of the year during the normal opening hours of the museum: Wednesday to Friday from 15.00 to 18.00 hours and Sundays from 13.00 to 17.00 hours.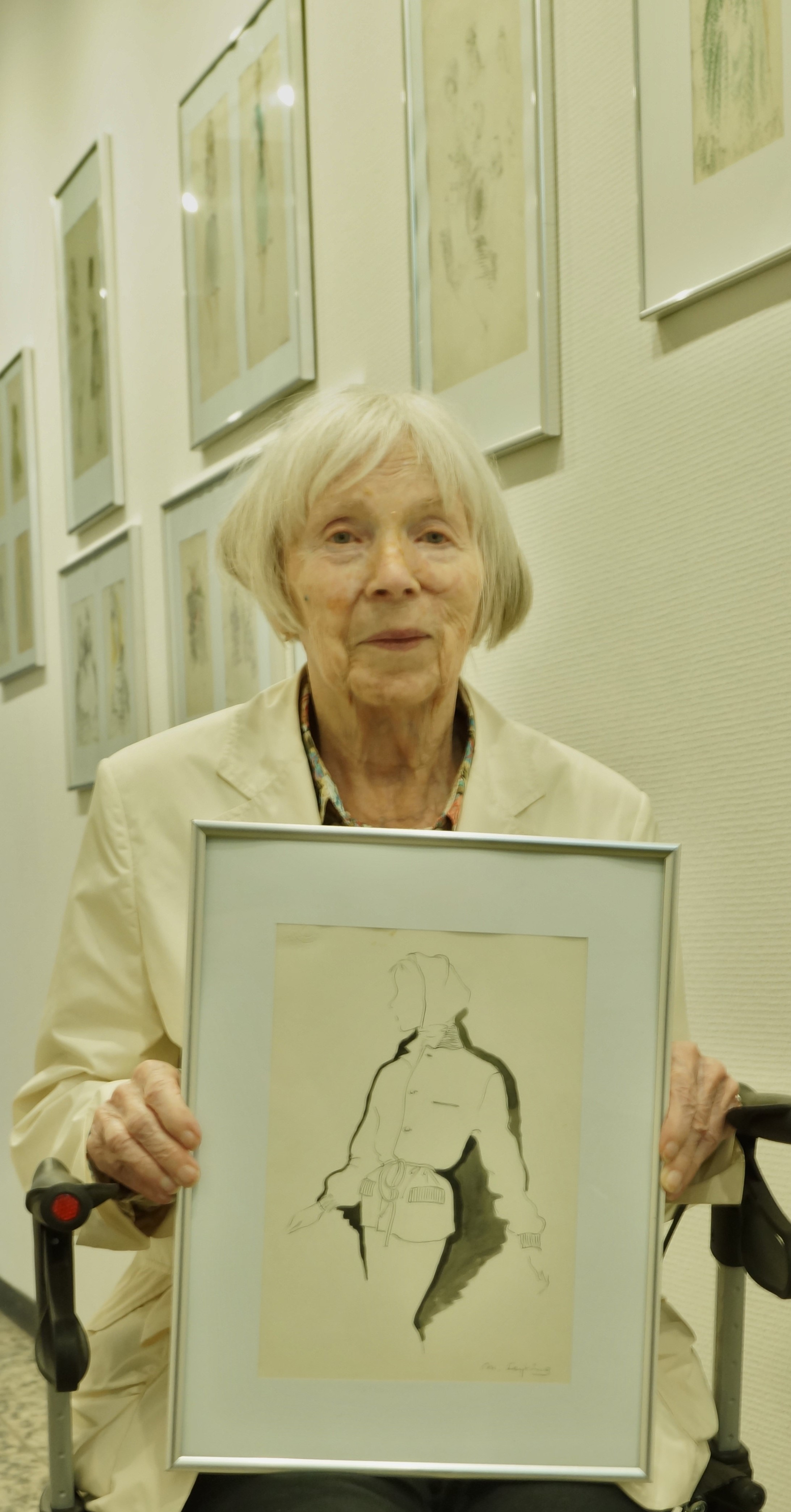 At the grand age of 95, Martha Prell presents one of the designs she created as a fashion designer.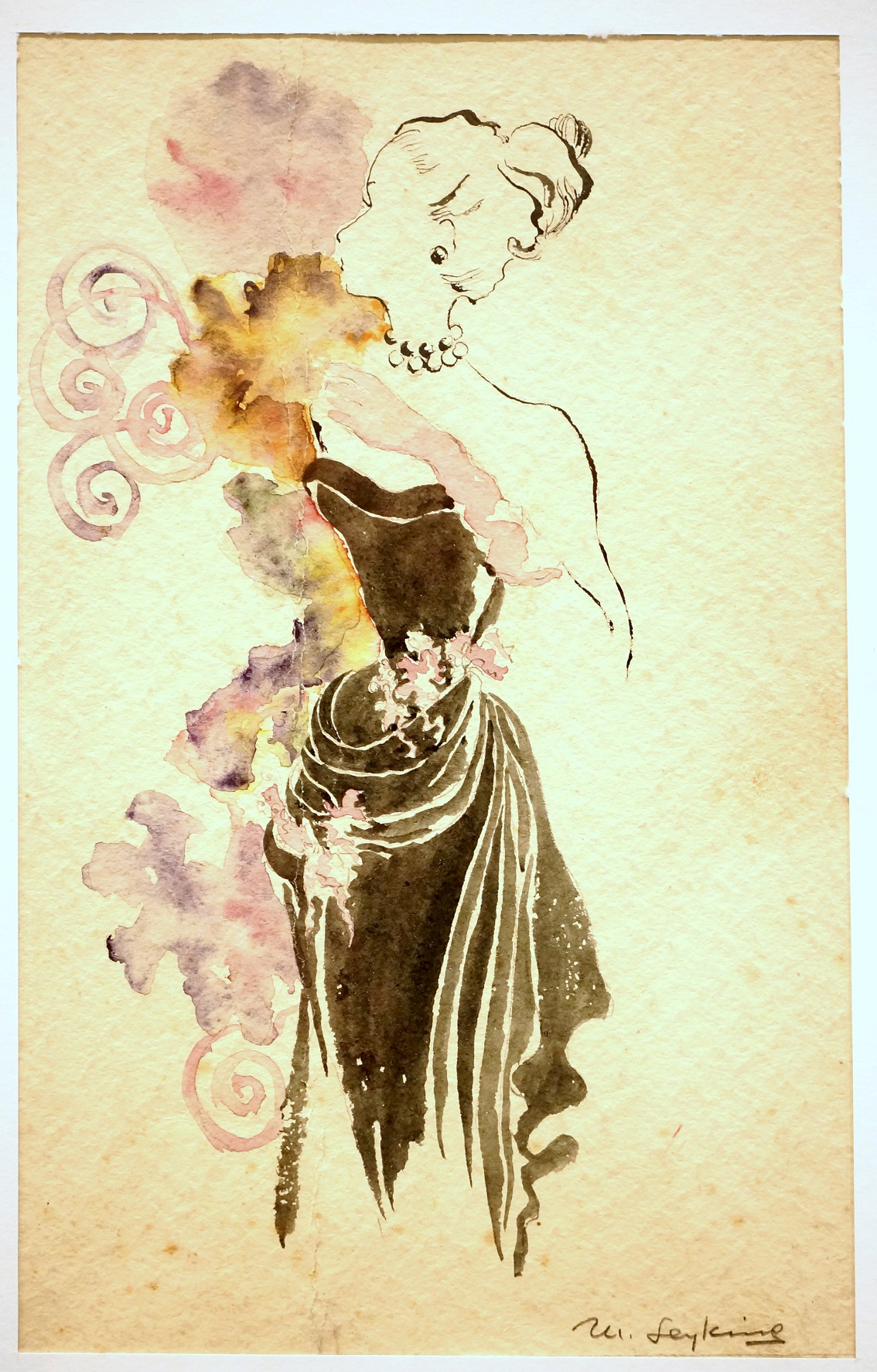 Here the design of a cocktail dress which was rather audacious for the 1940s. She has signed many of her works, as is the case here, with her maiden name Martha Leyking.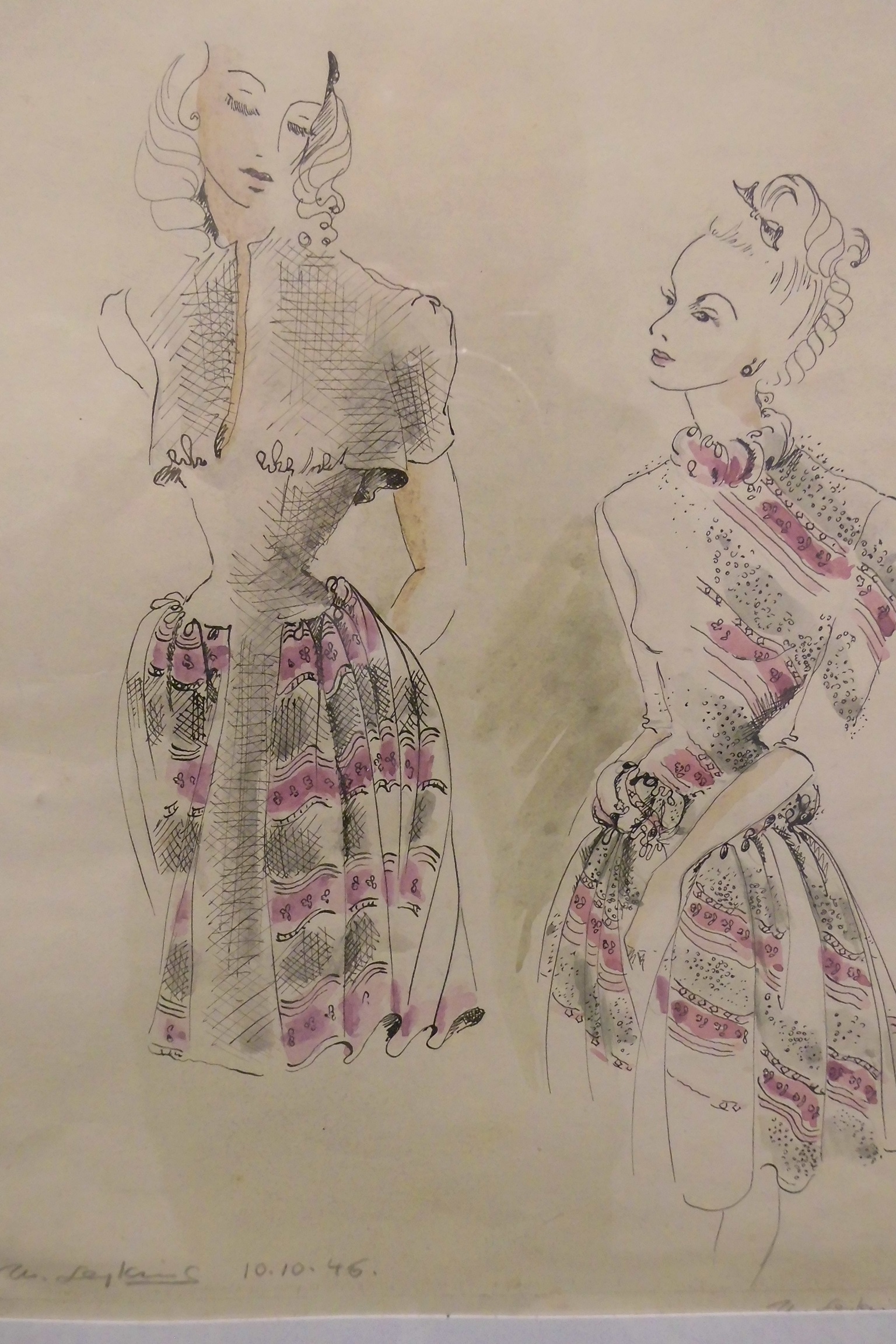 Waist-accentuated tops, colourful flared skirts with floral patterns, that is how Martha Prell imagined the fashion conscious lady in 1946.
HdS photos: Christian van Doorn
(veröffentlicht am 19.05.2020)

The mobile cinema film "Zurück in Krefeld" (Back in Krefeld) is dedicated to the Bandoneon. This instrument which has in the meantime conquered the world was developed in Krefeld more than 150 years ago. "This unique documentation was made possible through the cooperation between the Krefeld Office of Culture and a bandoneon artist", says Wolfgang Volker from "Covestro Foto-Film-Club".
This contribution was awarded the silver medal in the category "Best documentation" at the Federal Film Festival in Fuldabrück by the Bundesverband Deutscher Film-Autoren (BDFA). As a result the Krefeld film has been nominated for the Deutsche Autoren Film-Festival (DAFF) (German authors Film Festival) due to take place in June. This film can also be viewed in our "mobile cinema" until Whitsun under:.
https://covestro-ffc-krefeld.de/wanderkino/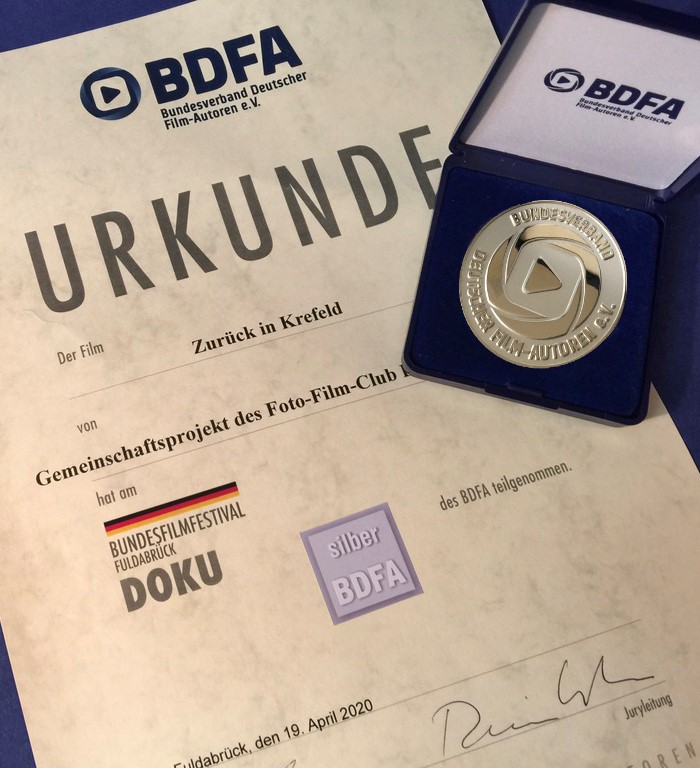 Haus der Seidenkultur (HdS) will remain closed until 5th May. "In this way HdS is adapting to the current situation" says press spokesperson Dieter Brenner. And: "For the subsequent period we will apply a new concept for museum visits in order to ensure that visitors can comply with the one and a half metres safety distance."
The new concept allows visitors to pass through the museum in Luisenstrasse 15 in one direction from the entrance to the exit. This ensures that visitors do not meet in the narrow sections of the building.
Just two small parts of the museum where it is not possible to ensure the safety distance will be closed for the time being. For example the technical workshop. "The crafts normally demonstrated there, that is pattern design, point paper design and Jacquard card punching, will, however, be described elsewhere", says Brenner.
The current exhibition "Krefeld in 3-D as it once was" will be extended until 9th August. If you have any questions or require information just contact the visitors' service under tel. no. 02151 9345355 or send an email to This email address is being protected from spambots. You need JavaScript enabled to view it.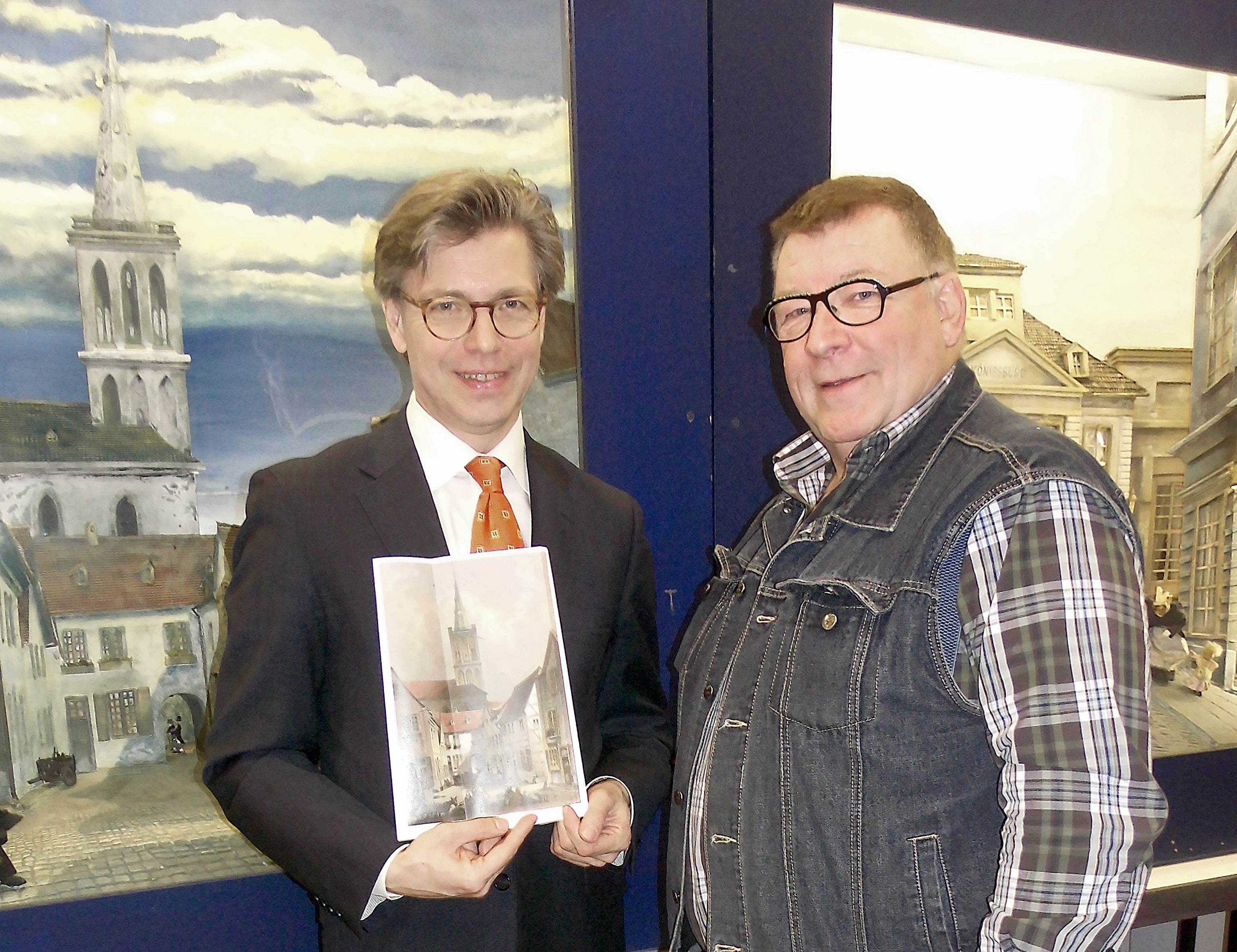 Curator Achim Wahl (right) is pleased that the exhibition "Krefeld in 3-D as it once was" is being extended. Dr. Olaf Richter (left), Head of the Krefeld Town Archives placed a large number of documents at the disposal of the museum. Photo: HdS