Ergebnis einer Kooperation mit der Hochschule Niederrhein
Alte Webtechniken im Haus der Seidenkultur (HdS) mit neuen jungen Ideen zu verknüpfen, dies ist eines der zukunftsorientierten Ziele der Museumsmacher an der Luisenstraße 15. Mit der Zusammenarbeit der Hochschule Niederrhein wurde jetzt mit dem Projekt 20-19 ein weiterer Meilenstein auf diesem Weg gesetzt.
20-19 ist eine von Studentinnen der Hochschule Niederrhein entworfene Kollektion, die im Rahmen der Projektarbeit im 5. Semester entstanden ist. Sie ist angelehnt an das 100-jährige Bauhaus (1919) und die Veröffentlichung der Kollektion im Jahr 2019, an die Teambezeichnung der Studentinnen "Team 20" sowie an das 19. Jahrhundert, aus dem die 8 hölzernen Webstühle des Hauses der Seidenkultur stammen.
Durch den für das HdS neuen Stil des Musters soll ein Gefühl von Modernität, Jugend und Freiheit wiedergegeben werden. Aufgrund des Musters im Bauhausstil ist Kultur mit Modernität gepaart. Die Produkte vereinen also im gesamtem Kontext Alt und Jung. Es soll eine Verbindung geschaffen. Eine Verbindung zwischen Alt und Jung, antik und modern, Krefeld und Mönchengladbach, Museum und Hochschule sowie Kunst und Mode.
Bildtext:Studentinnen der Hochschule Niederrhein präsentieren im Museumsshop vom Haus der Seidenkultur ihre Kollektion für eine junge Generation.
HdS-Foto: Brenner
Und was berichtet die Presse über dieses Ereignis.
Bitte klicken Sie hier
http://www.mein-krefeld.de/die-stadt/bauhausmode-aid-1.7673935
https://rp-online.de/nrw/staedte/krefeld/bauhaus-in-krefeld-studentinnen-entwerfen-mode-fuer-das-haus-der-seidenkultur_aid-35696241
Krieewelsche dialect was on the programme at Haus der Seidenkultur (HdS) and dialect expert Heinz Webers (photo) moderated an illustrious evening with talks and music in Low German dialect.
Webers is one of the people in the 'Town like Silk and Velvet' who put in a lot of effort to make the dialect respectable enough for society again. "Until the 1960s Low German dialect was regarded as bad taste", says Webers. And: "Those who spoke dialect were "Pongels" folk!" Laughing he adds: "My first foreign language was therefore German."
"Dialect is more affectionate than High German", says Webers providing the following example: "If I say to a friend: 'Do böss ene ärme Doll' then I am indicating to him that he doesn't comprehend something not in an offensive way but kindly. It simply sounds different if I say to him in High German: You don't understand."
The musical entertainment on the dialect evening at HdS was provided by the "Krieewelsche Fente", alias Dieter Brendgens and Walter Langer. HdS press spokesperson Dieter Brenner provided a brief guided tour of the former weaving workshop for ecclesiastical textiles. Afterwards many visitors agreed: "We will definitely come again to enjoy a full tour!"
The evening literally came to a stirring end with the new Krefeld national hymn "Kiek, dat es Krieewel".

Heinz Webers and the protagonists of the Dialect Evening.HdS Photos Fotos: Brenner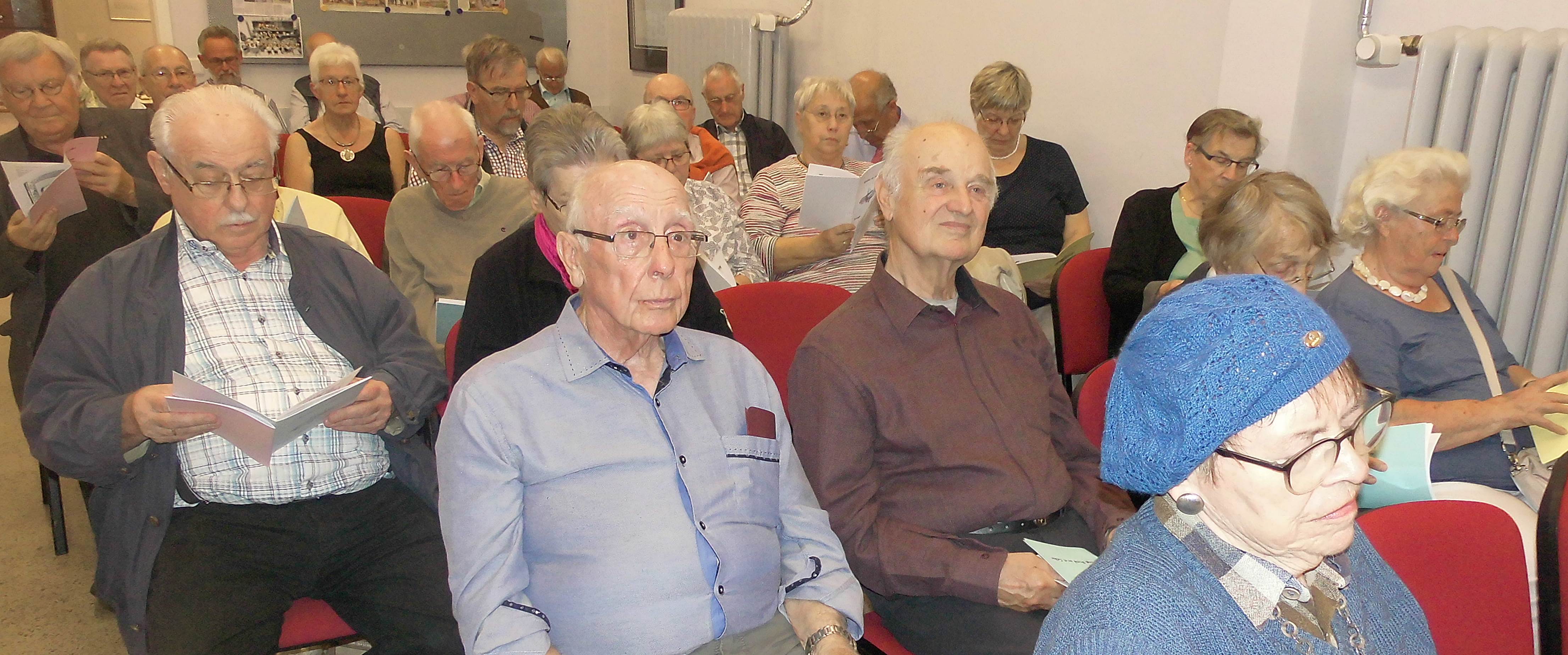 Numerous dialect enthusiasts filled the media room at Haus der Seidenkultur
Haus der Seidenkultur (HdS) assesses the recent presence at "Krefeld pur" very positively. The museum staged itself very skilfully both in the Mennonite church and also on the catwalk in the Königstraße. Haus der Seidenkultur (HdS) assesses the recent presence at "Krefeld pur" very positively. The museum staged itself very skilfully both in the Mennonite church and also on the catwalk in the Königstraße.
For example, the designer Kaone Mabina who has been nominated for the "Golden Ribbon", presented her fashion collection under the label "MO70" (photo below). The collection reflects a passion for clean-cut, architectural and hand-created items. It includes fine angular details such as creative couture techniques and complicated cut techniques.
MO70 is inspiration from childhood memories in a remote place in Botswana, where Kaone Mabina was born, a woman who was called MO70 and who dressed in patchwork garments. MO70 relates to current social issues, plays on ideology and religions and on the way of life of people worldwide. MO70 aims to depict a person from the complicated contemporary world.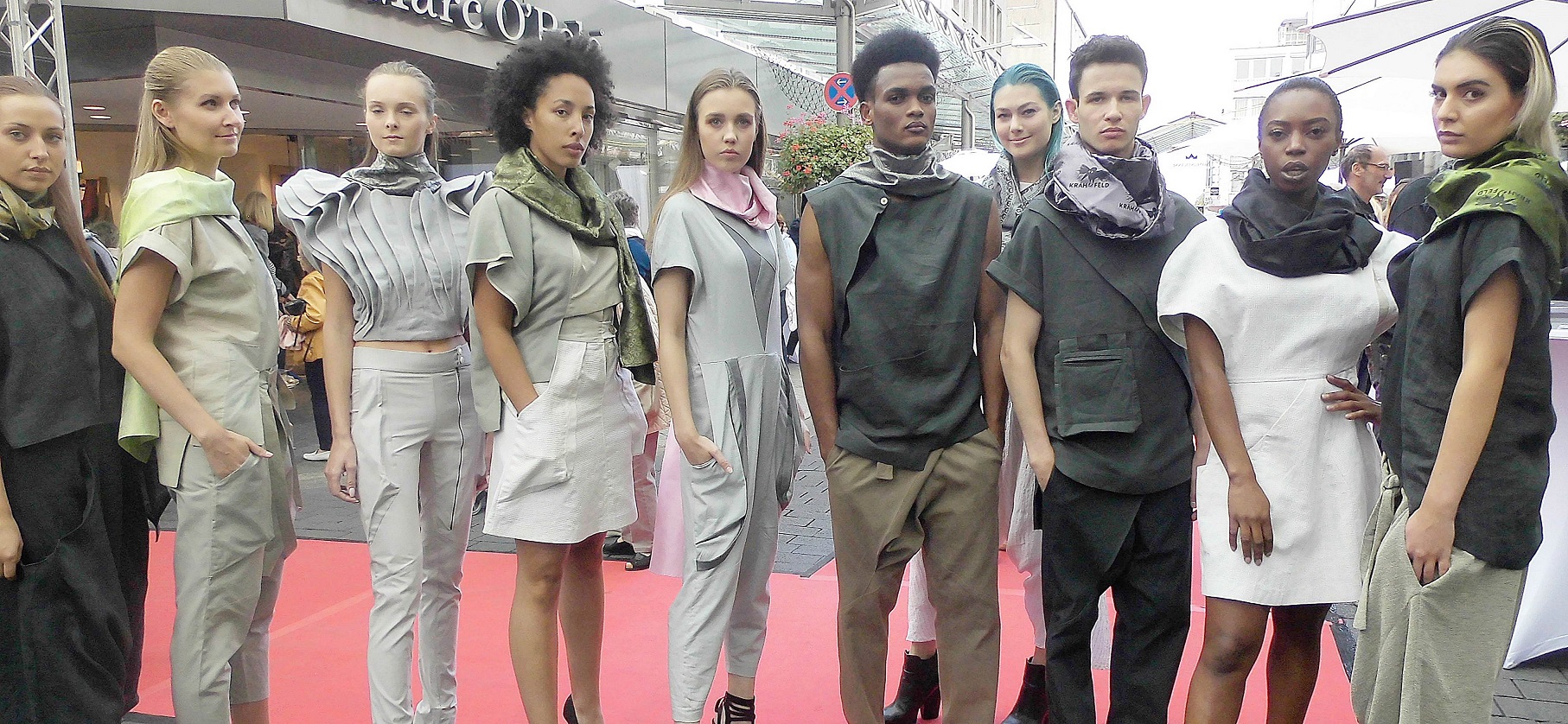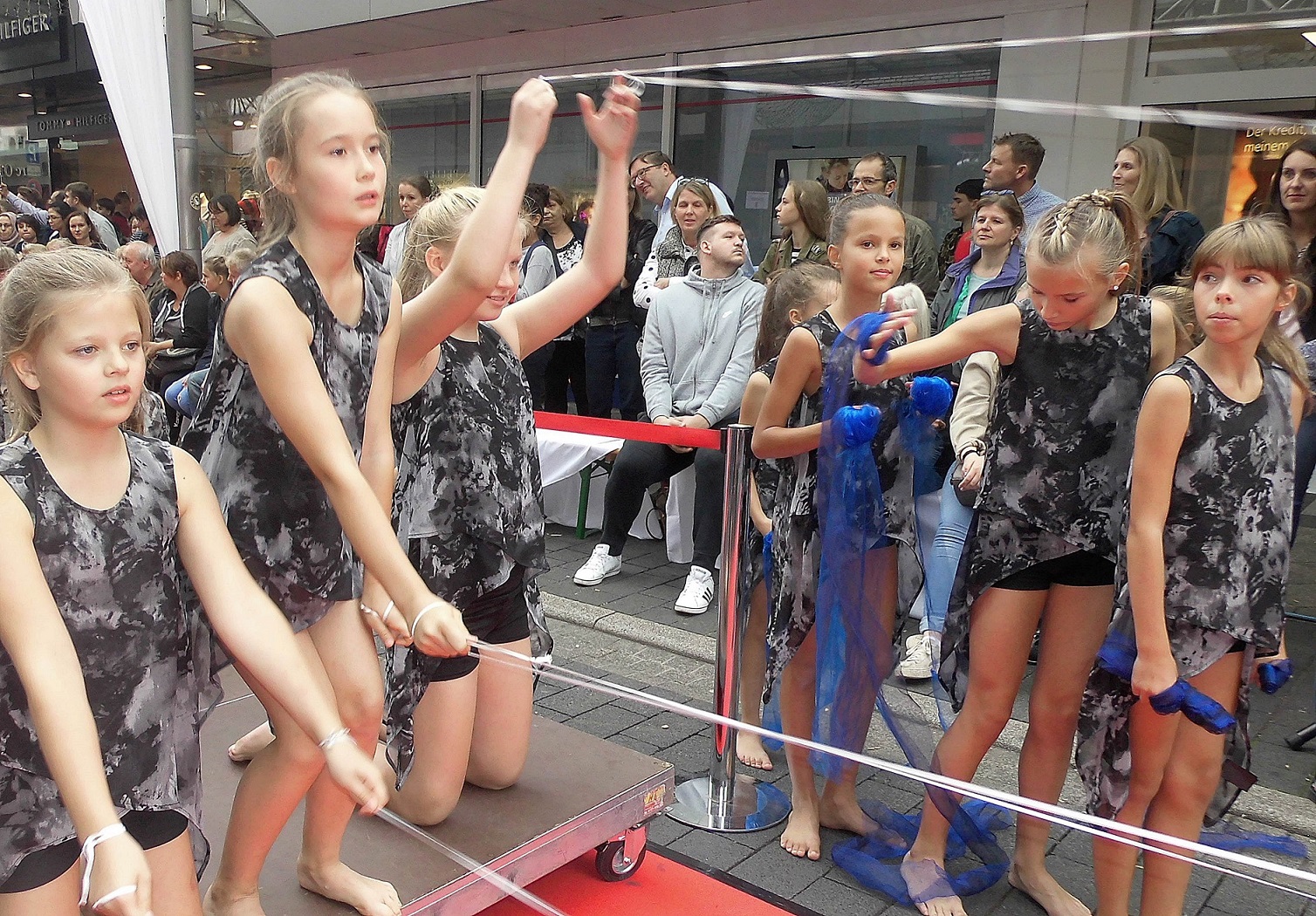 Actors from "Studios 232" also took part in the fashion section. The path of the silkworm up to the creation of silk thread was related in dance. A super show choreographed by Anja Santoriello.
HdS-photos: Brenner
Haus der Seidenkultur (HdS) had a visit from clerics from Salem Abbey on Lake Constance. Prior Father Johannes Brügger and priest Matthias Schneider came to Krefeld in search of fabrics for priests vestments destined to be worn in the Basilica Birnau, the oldest church of pilgrimage on Lake Constance.
"Several vestments need restoration and others have to be made completely new", said Father Brügger, a member of the Cistercian Order. And: "We came across HdS, Hubert Gotzes former weaving factory for ecclesiastical textiles in the internet and it seemed to be a good address." Point paper designer Günter Göbels showed the guests from Lake Constance a variety of precious brocades which can be seen in the museum but which are not for sale.
However HdS took advantage of its good contacts to the Dutzenberg Weaving Factory for Ecclesiastical Textiles, one of the few companies in Germany which still weaves such fabrics. It just took a telephone call and soon the entire delegation sat at the production company opposite Cornelia Gathmann who now runs the company on Frankenring 115 in the fifth generation.
Therefore the clerics did not need to return to Birnau empty-handed and in future fabrics from Krefeld can also be seen in the most beautiful church of pilgrimage in the Lake Constance region.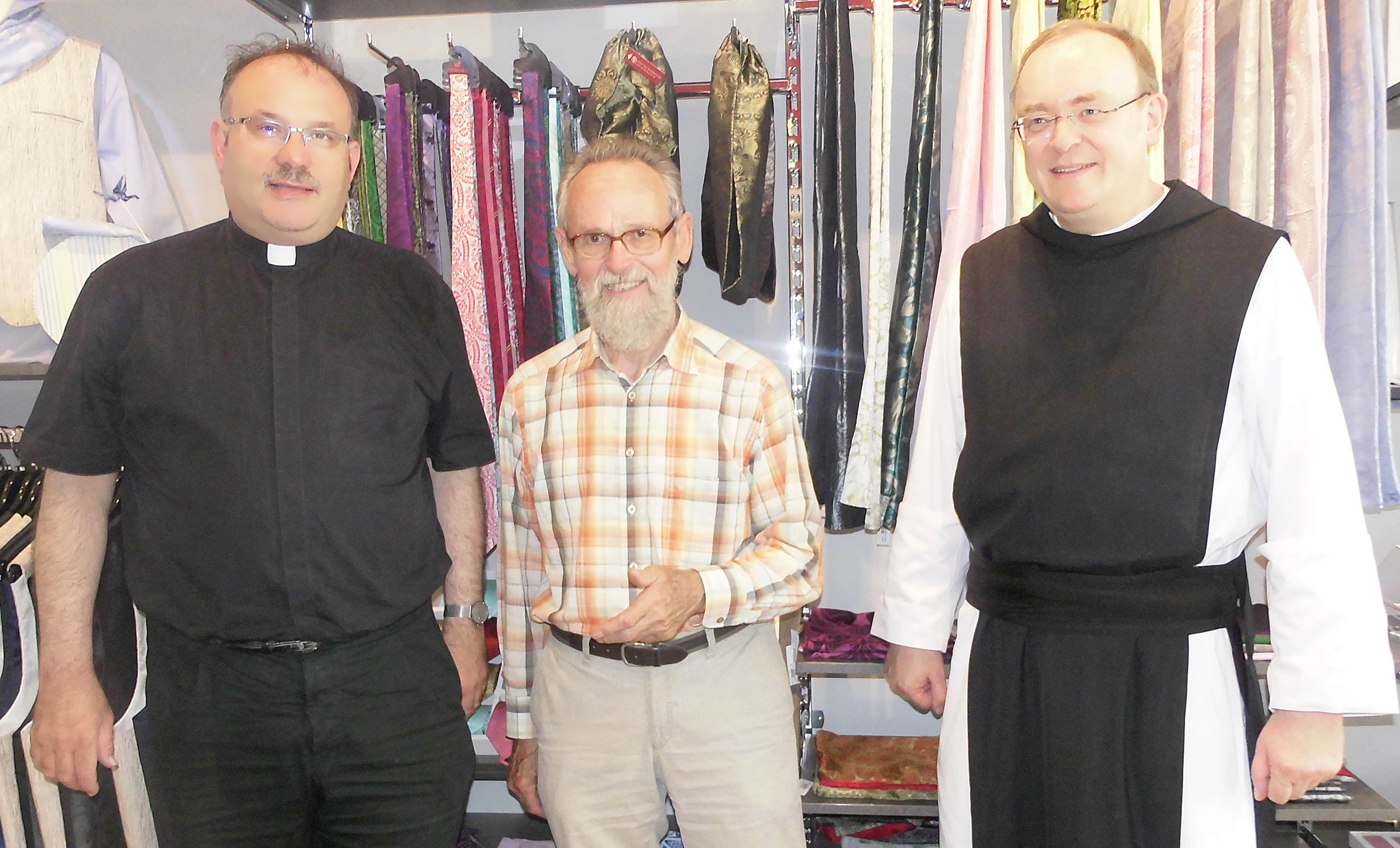 Prior Father Johannes Brügger (right) and priest Mathhias Schneider gathering information about ecclesiastical textiles at HdS. In the centre point paper designer Günter Göbels.
HdS Photo: Dieter Brenner
Das die Bauhaus-Ära auch in Krefeld deutliche Spuren hinterlassen hat zeigt das WDR-Fernsehen in mehreren Beiträgen, die derzeit in der Samt- und Seidenstadt gedreht werden.
Das Staatliche Bauhaus wurde 1919 von Walter Gropius in Weimar als Kunstschule gegründet. Nach Art und Konzeption war es etwas völlig Neues, da das Bauhaus eine Zusammenführung von Kunst und Handwerk darstellte. In Krefeld wurde Bauhaus vor allem durch Mies van der Rohe geprägt, der als Architekt eine Vielzahl seiner Gebäude in der Weberstadt errichtete.
Drehort für die WDR-Produktion war auch das Haus der Seidenkultur (HdS). Im heutigen Museum an der Luisenstraße 15 wurde bereits 1868 eine Weberei errichtet, die 1908 Hubert Gotzes mit der gleichnamigen Paramentenweberei übernahm. "Daher gehört das Gebäude mit zu den Wiegen der Krefelder Textilgeschichte", meinte WDR-Redakteur Helge Drafz, der mit einem Kamerateam derzeit in unserer Stadt unterwegs ist. Über den Termin der Ausstrahlung werden wir an dieser Stelle rechtzeitig berichten.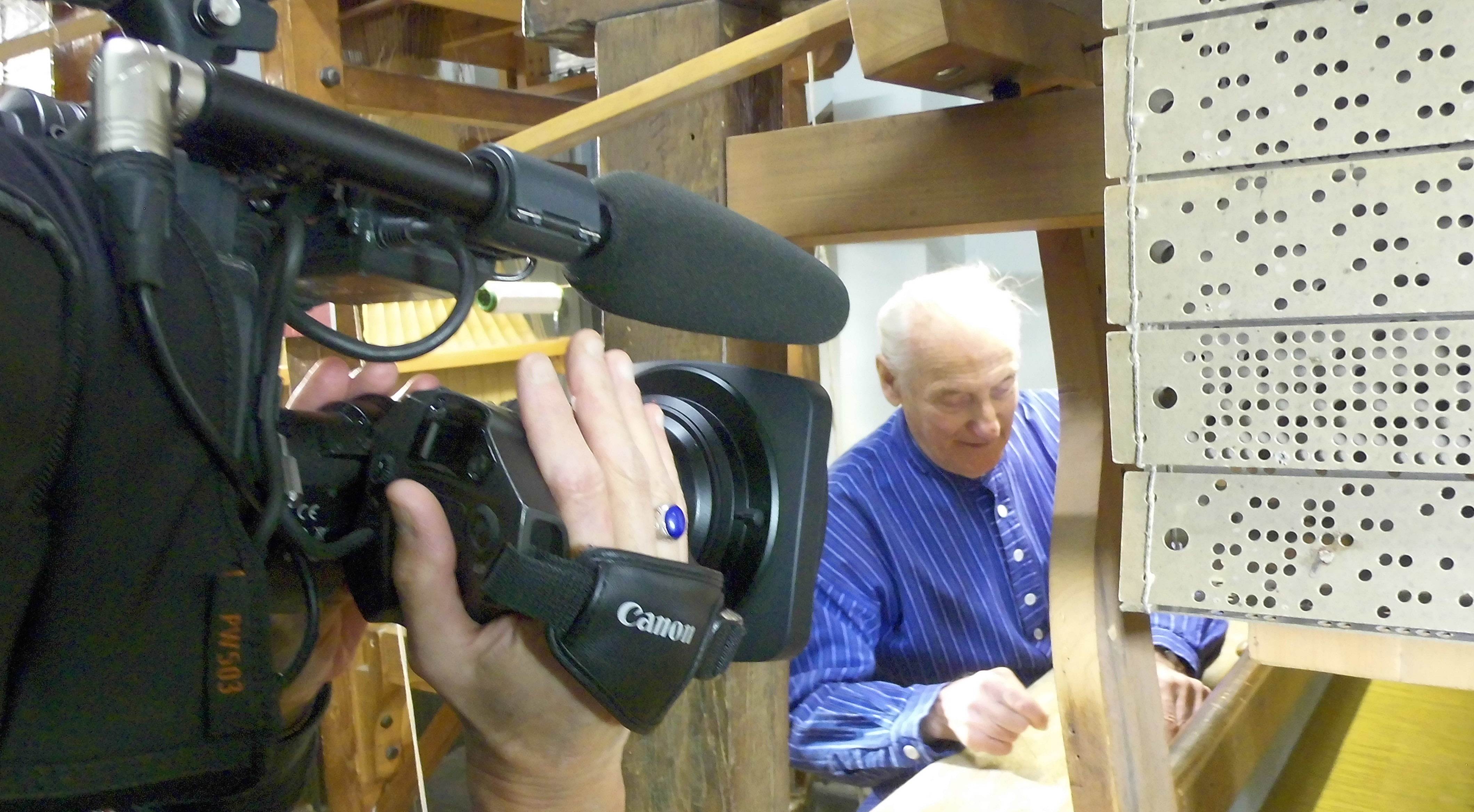 Einmal mehr war die WDR-Kamera auf Handwebmeister Günter Oehms gerichtet.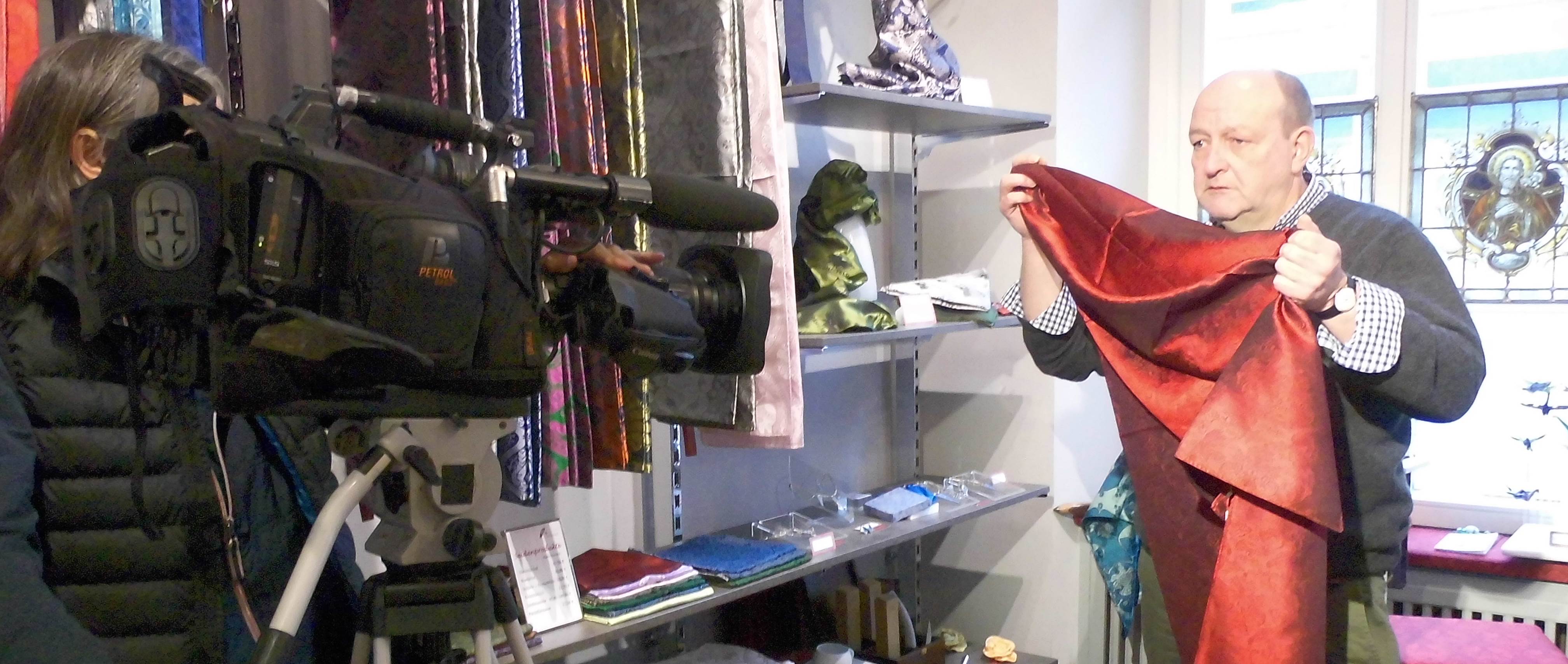 WDR-Redakteur Helge Drafz zeigt vor der Fernsehkamera im Museumsshop Seide aus Krefeld. Seidenschals und Krawatten sind mit den historischen Mustern, die einst in der Paramentenweberei verwebt wurden, käuflich zu erwerben.
HdS-Fotos: Brenner
Hansgeorg Hauser (photo) was once again re-elected as Chairman of the Association of Friends of Haus der Seidenkultur (HdS) at the annual general meeting. "Our annual balance sheet is very presentable", said Hauser referring to some 5000 visitors last year. Hauser: "For our jewel in Luisenstrasse that is a substantial number". Some 3000 of those visitors were part of booked groups who wanted to discover the "Town like Silk and Velvet" at the authentic location of the former Hubert Gotzes weaving factory for ecclesiastical textiles.
Hauser (79) is particularly proud that HdS is in the meantime indicated in the official town map of Krefeld and that there are signs in all the town car-parks depicting the historic loom. HdS is even depicted on the world map in the Silk Museum in Tiblisi (Georgia).
Antje Ditz was elected member of the committee to replace Klaus Drenk who retired. Ilka Neumann was re-elected as a member of the committee. The new auditor is Dieter Blatt. All elections and the approval of the actions of the committee members – were unanimous with the respective abstentions.
Hansgeorg Hauser Chairman
HdS-photo: Brenner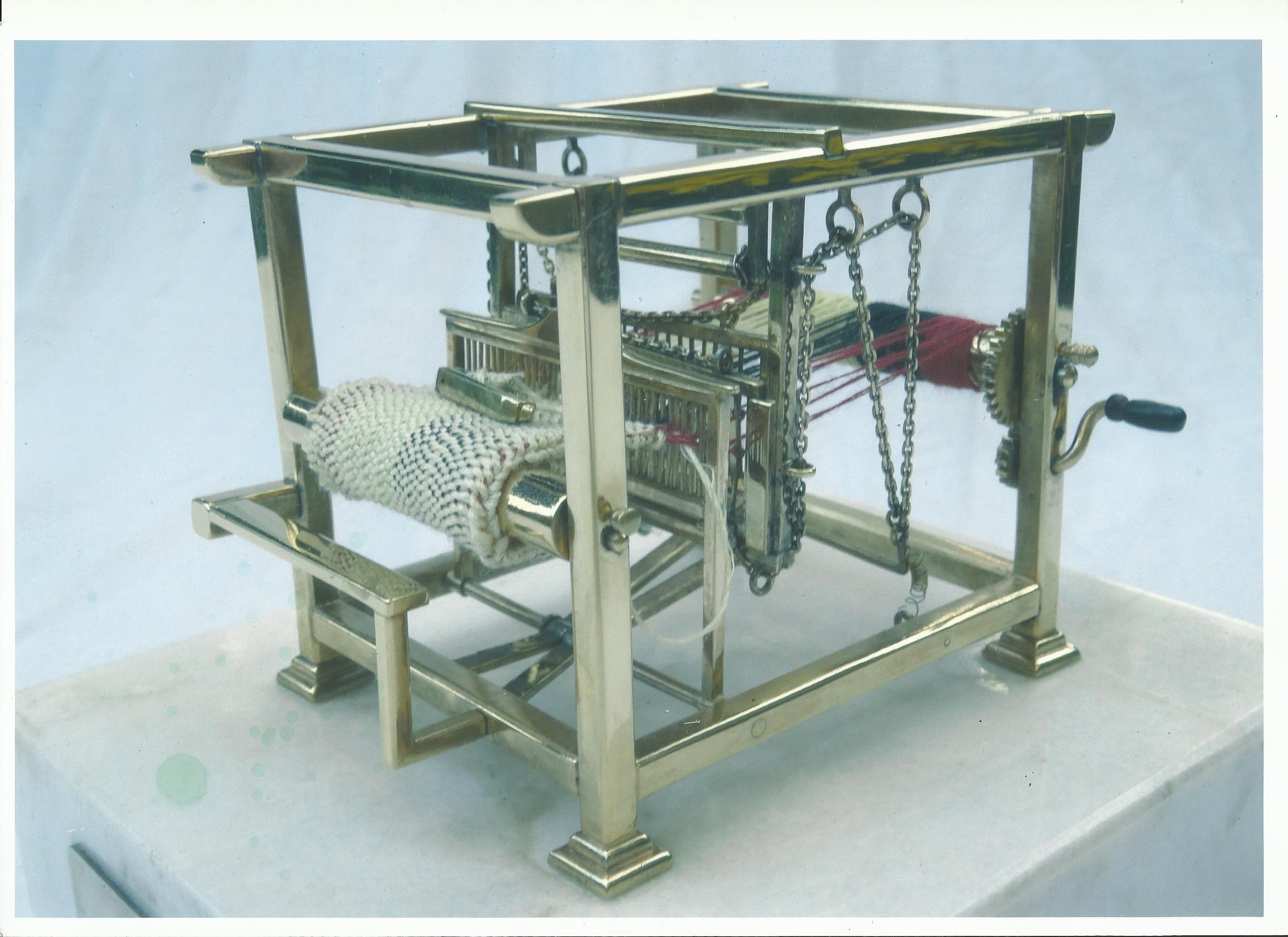 "Krefeld has the smallest loom in the world" was one of the headings in the Rheinische Post newspaper on 28th September. "This work of art was created by Rainer Bartelsheim and can now be seen at Haus der Seidenkultur (HdS)", wrote the WZ newspaper on the same day. The gem is hardly larger than a packet of cigarettes and that makes it a sensation which is now on show in the museum in Luisenstraße 15. The museum is extremely proud to have received this donation. In the RP newspaper HdS press spokesman Dieter Brenner said: "This is our second unique attribute". And: "The first is the fact that we have the only preserved Jacquard weaving workshop in Europe still at the authentic location". WDR television also broadcast a report of the event in the programme "Lokalzeit". After all, the smallest loom in the world is also mentioned in the Guiness Book of Records.
http://www.rp-online.de/nrw/staedte/krefeld/krefeld-hat-kleinsten-webstuhl-der-welt-aid-1.7110472

http://www.mein-krefeld.de/die-stadt/kleinster-webstuhl-der-welt-steht-in-krefeld-aid-1.7109548
http://www1.wdr.de/mediathek/video/sendungen/lokalzeit-duesseldorf/video-lokalzeit-aus-duesseldorf-1376.html
Haus der Seidenkultur (HdS) would welcome new volunteers to support its present team. "The different functions at our museum in Luisenstraße 15 are very varied", says HdS spokesperson Dieter Brenner: "After all we offer our visitors a wide range of different options."
In addition to the normal museums services, our volunteers provide guided tours for groups, prepare for seminars and are involved in the preparations and organisation of exhibitions. "Anyone who is interested in getting to the bottom of a topic, who has some technical skills and who is willing to tackle the task at hand can even be involved in the next exhibition", says Brenner.
Even for a "Niederrheinische Kaffeetafel" – an added option to a guided tour – many helping hands are required to set the tables and serve the food and drinks. A friendly assistant is on hand in the museum shop to advise visitors when purchasing high-quality products such as silk scarves, waistcoats or neckties.
Anyone who takes pleasure in the former textile professions and can communicate this knowledge will certainly find and appropriate area for their own leisure-time pursuit at the former Hubert Gotzes parament weaving factory. The museum educationalists are also always on the look-out for new colleagues who enjoy working with children and young people.
"New volunteers are always very welcome and soon find their niche", says chairman Hansgeorg Hauser, who underlines once more how important volunteers are for Haus der Seidenkultur: "Without such people, we would not be able to provide our cultural contribution for Krefeld!"
If you would like to have more information about the new tasks which await you at HdS, just send an email to This email address is being protected from spambots. You need JavaScript enabled to view it.. Or phone 02151-9345355.
Manual weaver Günter Oehms is one of the oldest volunteers at Haus der Seidenkultur where he demonstrates weaving and prepares the looms. HdS
Following an initial media assessment, the film "Stadtspaziergang auf seidenen Pfaden" (Town Walk on the Silk Route) has been released for the public and is now available for purchase as a DVD at Haus der Seidenkultur.

The film – made in autumn 2015 in HD quality – relates the story of, amongst other things, the Mennonites in Krefeld and their significance for the "Town like Silk and Velvet". And clergyman Christoph Wiebe explains the role played by the king of England in Krefeld town history.
In addition actors get their say, for example, Klaus Drenk representing Master Ponzelar in the film, who climbs down from his pedestal and walks through the town with his doffer boy singing the bobbin winders' song. Town guide and scriptwriter Dieter Brenner comments on the highly contrasting action which in just under 20 minutes takes the viewer to numerous historical places and explains the history.
"Without the assistance of the Bayer Uerdingen Photo-Film Club we would not have been able to realise this production", says Brenner who expressed thanks to the members of the Uerdingen Club for their technical support and for making available the recording equipment.
The film – which is certainly particularly suited for use in schools – can be purchased now for the price of 15 Euro as DVD in the Museum Haus der Seidenkultur in Luisenstraße 15.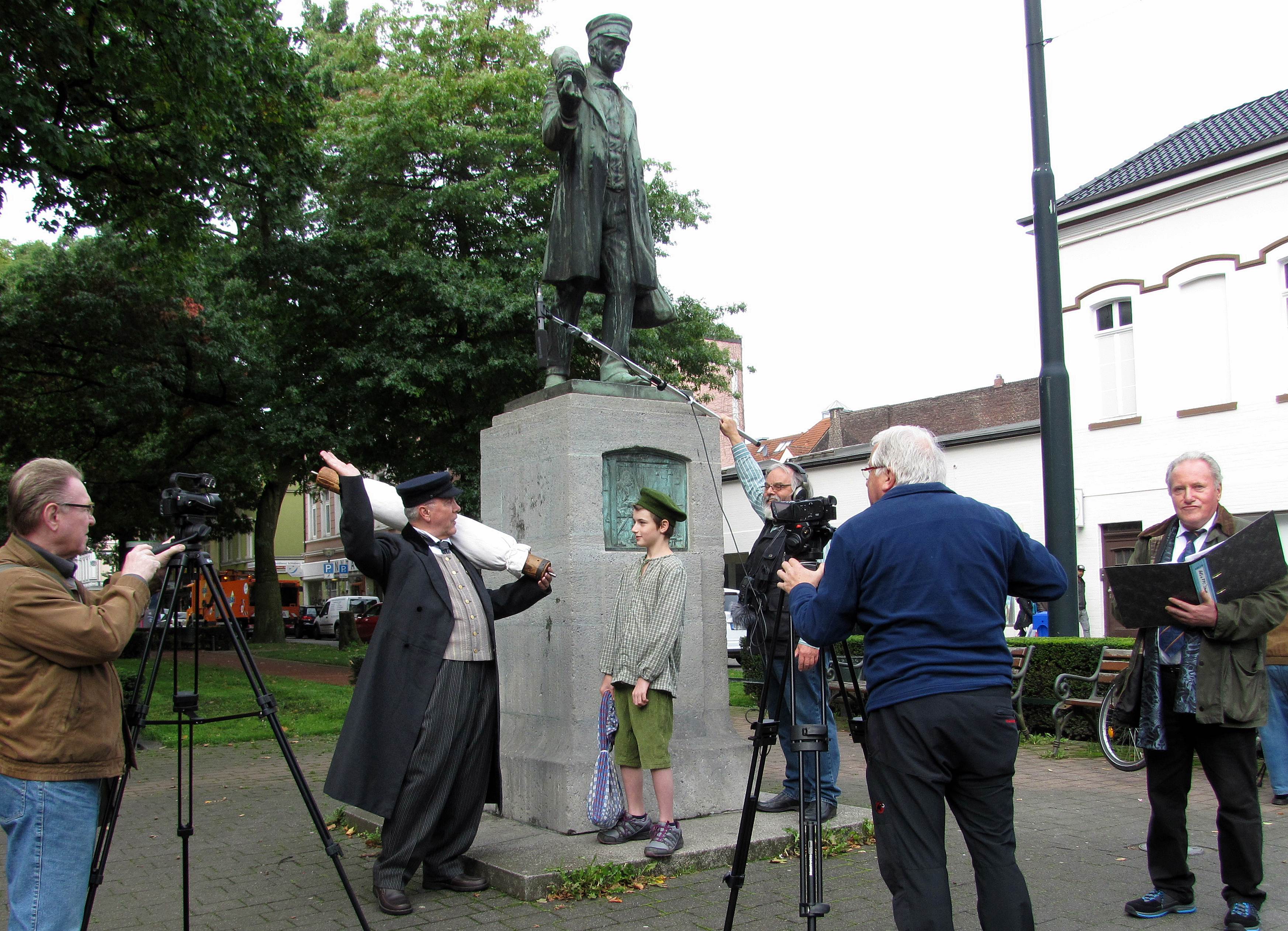 Scene from the filming. In the centre Master Ponzelar with his doffer boy Elias. Right of picture town guide and scriptwriter Dieter Brenner. Photo: HdS
Here you can find what is on offer for children and young persons.
The programmes are specially designed for youngsters so that they can learn something for the future by visiting our museum.
Why not download our "Little Bobbins" programme and chose the right option for your children.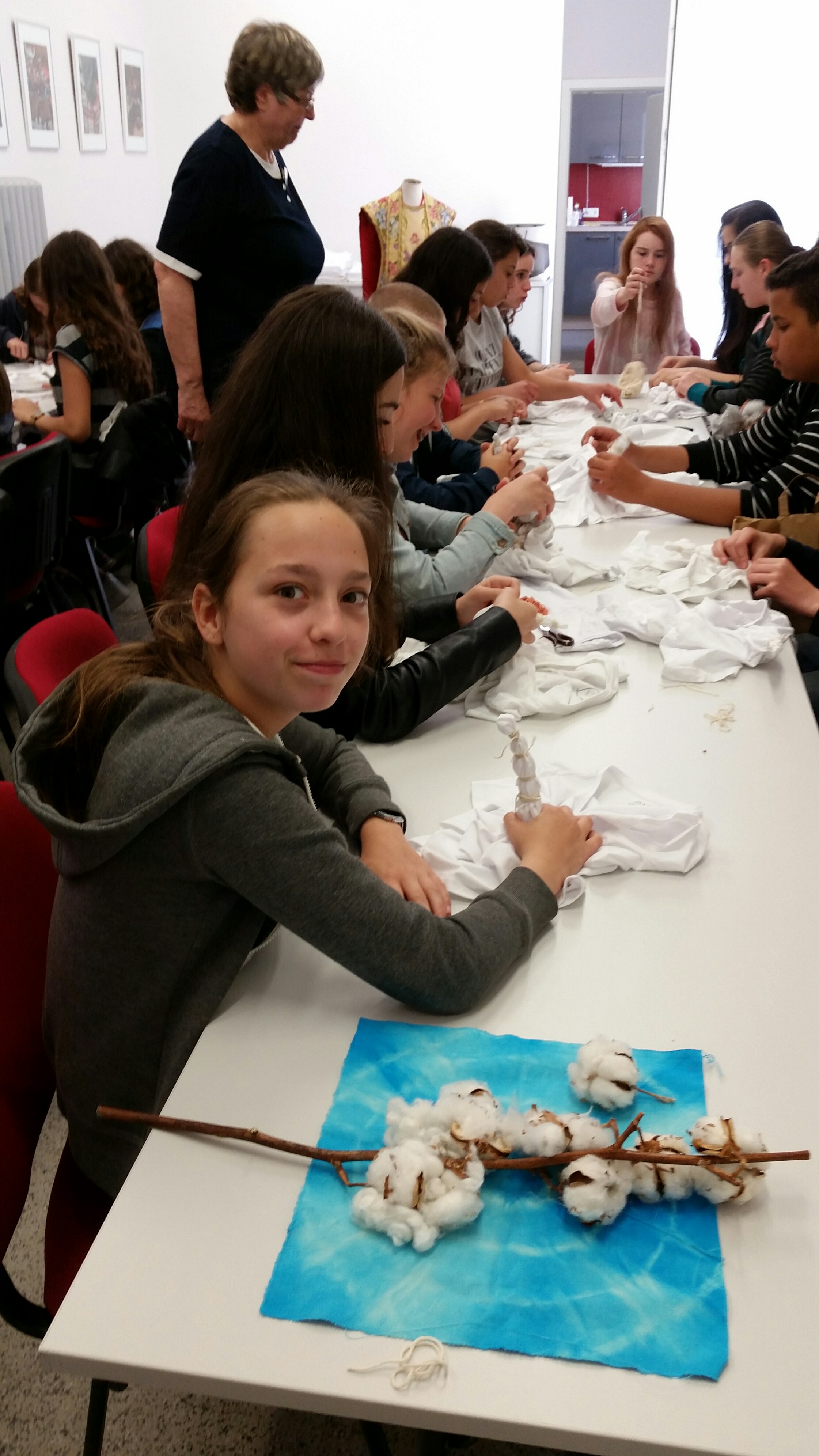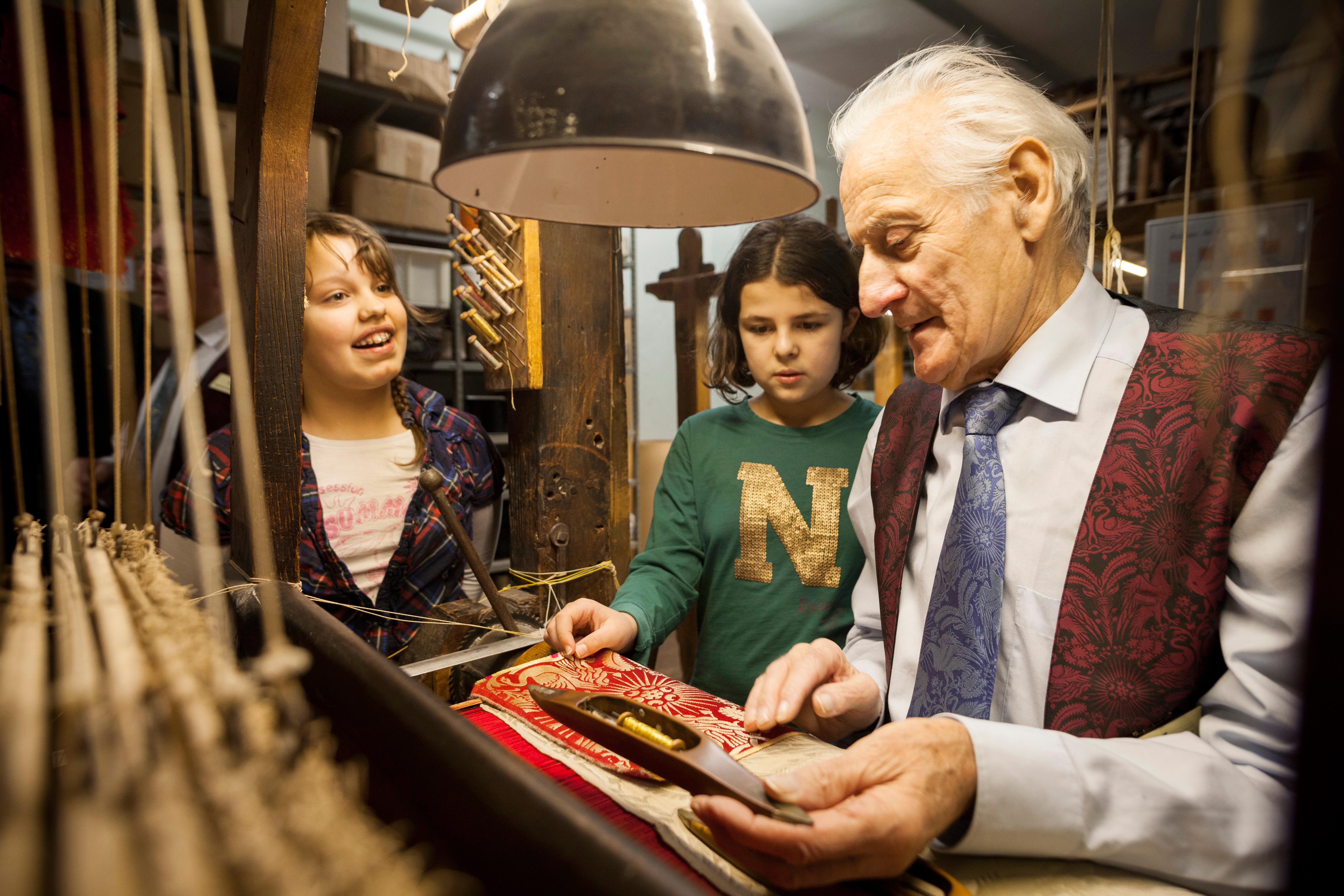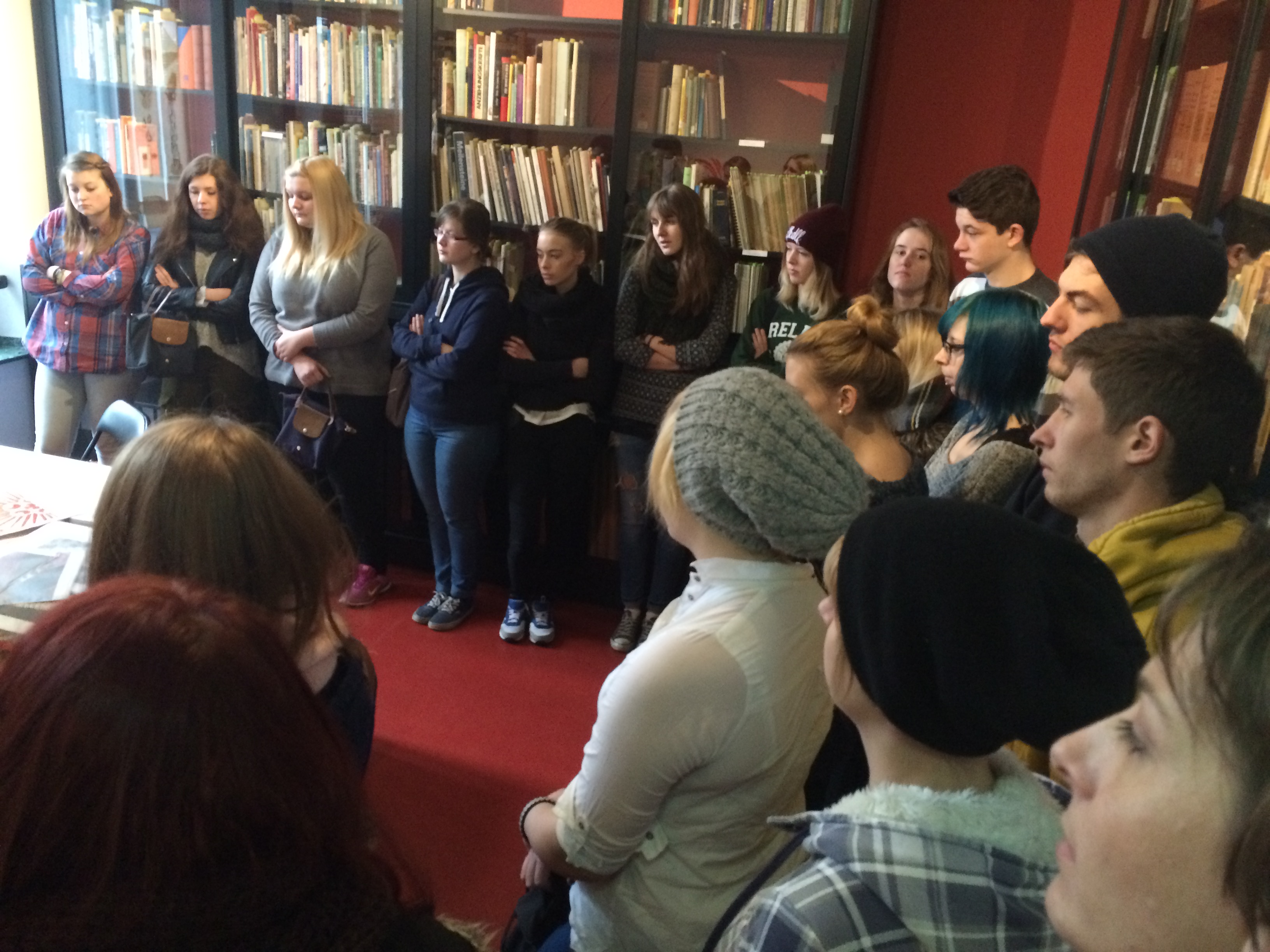 Great presseecho on the tribute to Pierre Cardin
"With an exquisite exhibition, the House of Silk Culture recalls the first prize giving ceremony of the Golden Spinning Wheel exactly 50 years ago." This is how the "Rheinische Post" will begin a full-page report on the current (alternating) exhibition at the Museum an der Luisenstraße 15. "The luxury of Monsieur Cardin" headed by editor Petra Diederich. A day later, the journalist reports that Maryse Gaspard and Jean-Pascal Hesse have called "a high visit to the house of silk culture". Gaspard was once the top-model Cardin, while Hesse is the company's head of the press service. The RP summarizes this visit under the heading "Pierre Cardin's Muse and his Shadow". "A homage to Pierre Cardin" is the title of the Westdeutsche Zeitung and writes in the local section of Krefeld: "The house of silk culture invites you to a glamorous time journey into the world of haute couture and the textile history of the velvet and silk town." , but fine and very high-quality exhibition recalls this particular moment "of the award of the first German fashion-Oscars. Editor Yvonne Brandt has placed a part of the extensive coverage in the overall edition of the WZ, which once again underlines the importance of the latest HdS activities. Under the heading "Parisian Haute Couture in Krefeld", Ernst Müller reports for the "extra tip": "The house of silk culture has succeeded in a coup: star designer Pierre Cardin makes his Paris creations available for the new exhibition". "By the way, this was not the only prize that Krefeld gave to Pierre Cardin," Müller recalls that Cardin also received the "Golden Silk Loop" in 1994. The "pierre cardin 1966 - 2016" exhibition is also to be seen during the opening hours of the Christmas market, with extended opening hours until 21 December; from tuesday to saturday from 11 am to 6 pm and on Sundays from 1 pm to 5 pm. This email address is being protected from spambots. You need JavaScript enabled to view it. angefragt werden.">Guided tours to the desired date can be requested by phone 02151-9345355 or by mail to This email address is being protected from spambots. You need JavaScript enabled to view it..