"The Golden Spinning Wheel will continue to spin beyond the 5th March – the originally planned finishing date of exhibition – until 19th March" according to the announcement from Haus der Seidenkultur (HdS), where the current exhibition commemorates the fact that the first German fashion Oscar was awarded to the French couturier Pierre Cardin 50 years ago.
Nevertheless the planned finissage will take place next Sunday, 5th March at 11.00 hours in the museum, Luisenstraße 15. Regine Zweifel will describe Paris "through the eyes of a native of Krefeld".
On 19th March the exhibition will close with a matinée. At 11.00 o'clock contemporaries who were involved in the "Golden Spinning Wheel" award ceremony 50 years ago will get together and talk about the event. In addition Emilia Breit from the Hochschule Niederrhein (college) will describe the development phases which inspired her when she designed the new "Krefeld Gold Ribbon" which will soon be presented again as a Krefeld Fashion Award.
Prior to this on 8th March at 18.00 hours is the monthly meeting of the "Silk and Velvet Roundtable" when textile historian Claudia Marciniec will talk about 50 years of fashion history.
A telephone call to 02151-936960 or an email to
This email address is being protected from spambots. You need JavaScript enabled to view it.
will ensure you a seat for the HdS events in May.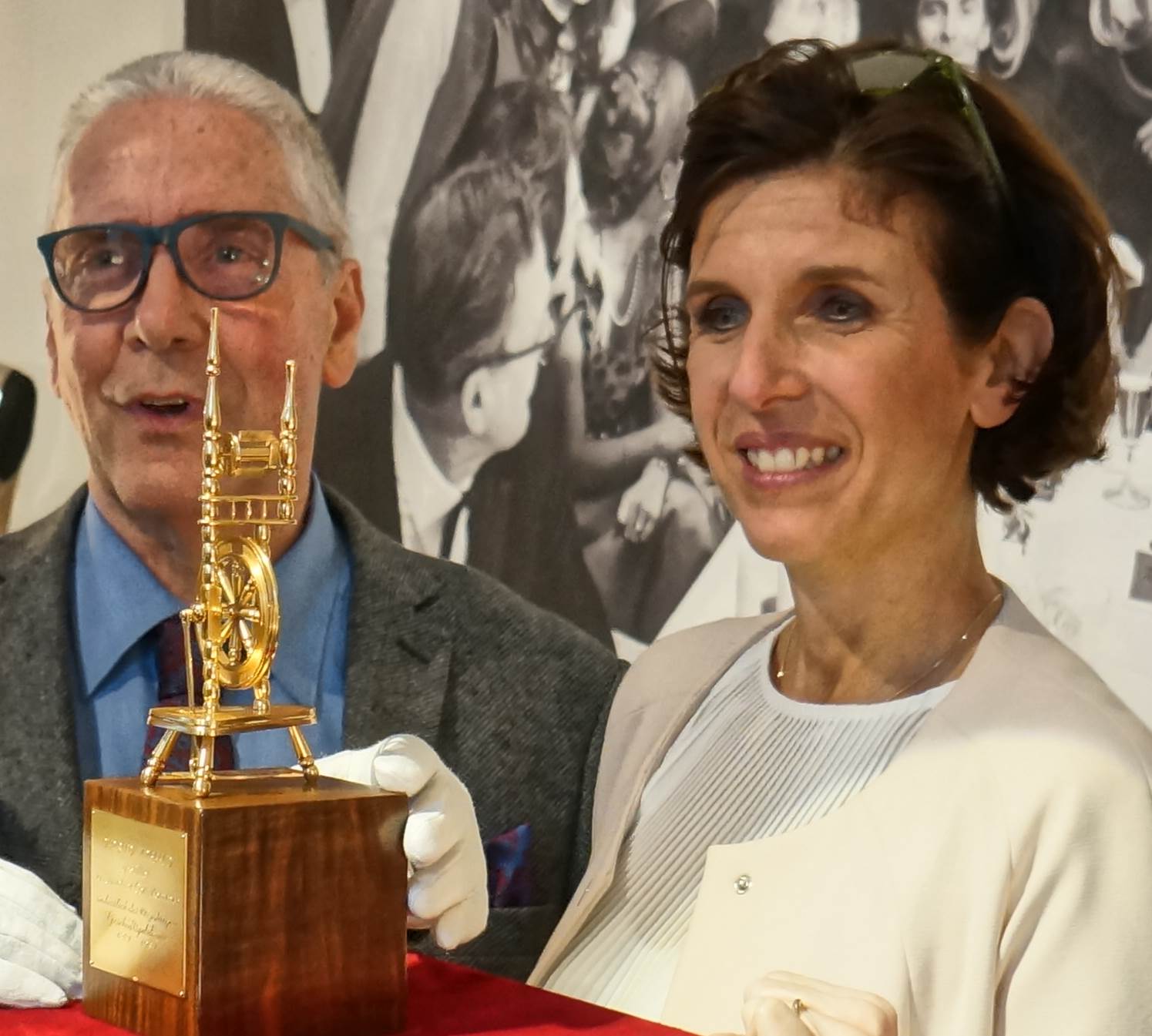 The curators of the current exhibition at Haus der Seidenkultur flank the "Golden Spinning Wheel". Klaus Drenk and Ilka Neumann, who cordially invite you to the closing events.
HdS Photo Brenner