Made possible as a result of cooperation between the German Textile Museum and HdS
Barbara Köstner has a very unusual field of interest. She is a textile archaeologist. "My speciality is fabrics from the ancient world and the early Middle Ages", explains the doctoral candidate from the University of Bonn. Currently the researcher is working closely with weavers who are happy to pass on the knowledge they have gained over their professional lifetime to the following generations at Haus der Seidenkultur in Luisenstrasse 15. Because the ingrained knowledge of the "oldtimers" helps the academic to better understand the weaving techniques used by the ancient Egyptians 2000 years ago.
Actually Barbara Köstner works mostly with a microscope. She searches for museums in England, Greece, Spain and other countries where Egyptian finds dating from the centuries before Christ are stored. She then carefully examines these fragments of ancient textiles to find out more about the material, the pattern and the weaving technique.
But "the proof of the pudding is in the eating". This gave rise to the idea of reproducing these ancient fabric fragments on present-day looms. Using the practical approach it is possible to unlock further secrets.
Dr. Annette Schieck, Head of the German Textile Museum in Krefeld-Linn recommended Haus der Seidenkultur also located in Krefeld to her young colleague. Here the looms are ready for use and above all there are experienced practitioners who have learned to weave from scratch.
Barbara Köstner was happy to take up the suggestion. And consequently the doctoral candidate and the weavers have since the summer been developing a programme to "reproduce" ancient fabrics.
Next September they are offering an appropriate workshop for conservators, scientists, artists and hand weavers, both in German and in English. Because those interested come from all over the globe. "The first workshop is fully booked," says Barbara Köster who is very happy about the overwhelming response.
No wonder: Such a close interlinking of science and practical application in respect of ancient fabrics is surely unique in Europe. It has only been possible thanks to the amicable co-operation between the textile museum in Linn and Haus der Seidenkultur in the heart of the city. "That is a unique feature for Krefeld", emphasizes Dr. Annette Schieck.
The project is being financed by the cultural trust of the Krefelder Sparkasse (bank). "We are sponsoring it to the sum of 24,000 Euro", confirms the Sparkasse director, Lothar Birnbrich.
The citizens of Krefeld can also support the project: "We are still looking for looms for the project," says Hansgeorg Hauser, Chairman of the Association of Friends of Haus der Seidenkultur. "Anyone who has a compact table loom or pattern loom with 12 or more shafts at home should get in contact with the museum."
Adresse: This email address is being protected from spambots. You need JavaScript enabled to view it.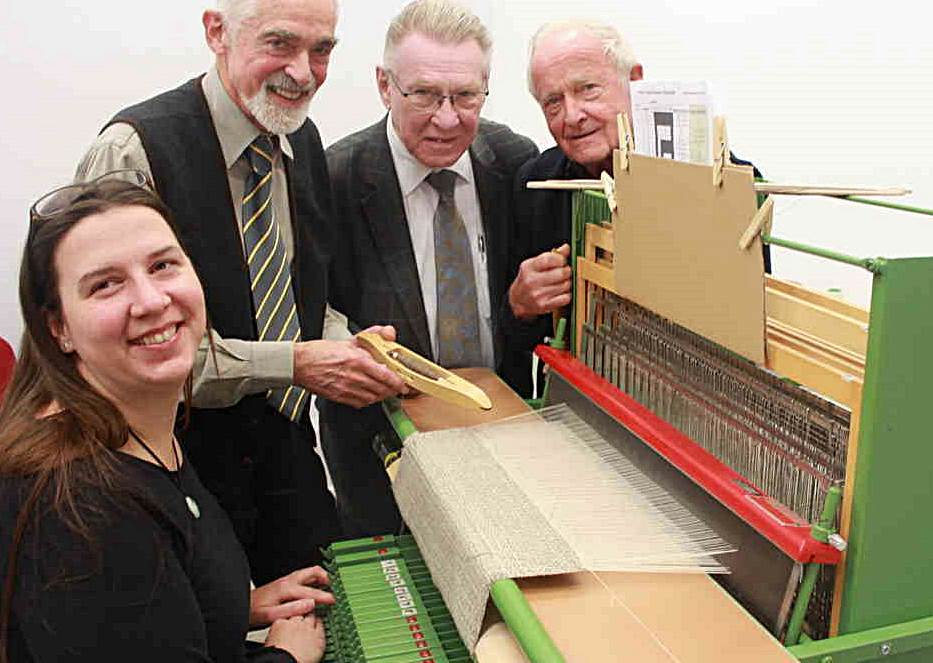 At the loom: Textile archaeologist Barbara Köstner working with the experienced weavers (from left to right) Dieter Blatt, Manfred Weisters and Christian Beckers to reproduce ancient textiles and to unlock their secrets. Photo: Ernst Müller, Stadt-Spiegel