What will the year 2021 bring us? We don't really know but one thing we know for certain. This year Haus der Seidenkultur (HdS) will continue to present itself as a living museum. For example in the past few weeks alone more than 100 Geo-Cacher have taken the "Town walk on the Silk Route". The Magazin für Kultur und Lebensart in Krefeld "Kredo" (Magazine for Culture and Lifestyle in Krefeld) reported in detail about our electronic scavenger hunt in the most recent edition. (More about it here soon).
Our motto adapted to the current situation is: "If people cannot come to us in the museum due to Corona then we just reach out to our visitors!" And we are continuing this intention once more with our "mobile cinema" which we kicked off with in the middle of last year.
The Krefeld "Covestro Foto-Flim-Club" is responsible for the direction. The chairman, Wolfgang Volker – a volunteer at HdS announces five new films in the current show which have been selected by the head of the film group, Heinz-Dieter Hamm. The audience can look forward to highly contrasting travel documentaries with adventurous experiences from Greenland to Nepal.
"Meer des Sandes" (Sea of Sand) is the title of Lothar Lindner's (Kempen) film about Inner Mongolia. The autonomous province of the Peoples' Republic of China covers large areas of massive sand dunes providing a splendid setting for films. Klaus von de Gracht, a native of Krefeld, has dedicated his contribution to the Spanish painter Cesar Manrique.
In October 1993, Lothar Lindner (Kempen) was part of a trekking group discovering Nepal. The aim was to circle the mighty mountain massif Manaslu – 8163 metres - high in 20 days. The film is therefore entitled "Manaslu". Gerd Dikta enthuses about Helgoland in his film "Hochseeinsel und Paradies" (High Sea Island and Paradise). The largest island on earth was Wolfgang Volker's destination visiting the Greenland coast. He stayed in a hotel in Ilulisaat, which is also the title of his film.
"In the next edition of the "mobile cinema" there will also be a contribution from HdS again" promises Volker describing a project in which a card puncher is the star of the film. Please click on the following link to open the procedure for your "mobile cinema".
www.covestro-ffc-krefeld.de/wanderkino/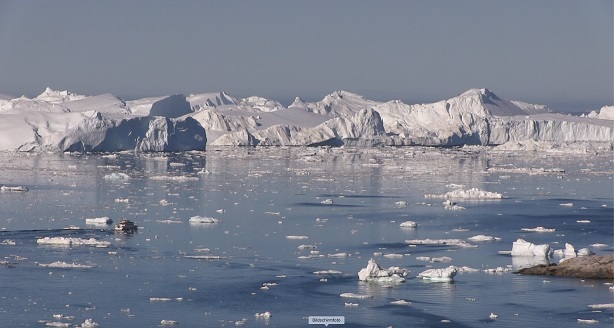 A mountain of ice showcased in the Ilulissat Fjord
Photo: Covestro-Film-Club