At the beginning of the year Haus der Seidenkultur (HdS) was accepted as the most recent member of the "European Route of Industrial Heritage" (ERIH). This is confirmed in a decorative certificate which now hangs in the museum in Luisenstrasse 15 for all to see.
The ERIH is an important tourism network with 1850 sites in 47 countries. The aim of the organisation is to link industrial heritage sites and visitor attractions. "The objective is to allow a more in-depth discovery of the industrial landscapes of the respective regions," says Hansgeorg Hauser, head of the HdS museum. And: "Through our membership we can also include the left-bank region of the Rhine in the overall concept."
For those who in future want to discover and see for themselves more about the common roots of European industrial history along one of the topic routes offered by ERIH, Luisenstrasse 15 in the "Town like Silk and Velvet" offers a new link.
The location near to the railway station, a gas works and electric power station in the immediate vicinity provided ideal general conditions in the Wilhelmine period for the development of an industrial landscape in the once noble Krefeld Crown Prince District of Krefeld. It was against this background that the Hubert Gotzes Paramentenweberei – the present HdS – was established.
ERIH-President Dr. Maria Grewing therefore considers the membership of Haus der Seidenkultur to be an "additional asset within the options offered by the tourism network." And: "Each industrial monument, each town, each workers' estate forms part of this initially European and later world-wide development". However, visitors seldom learn anything or only very little about this. At HdS this connection will be emphasised more clearly during guided tours in future.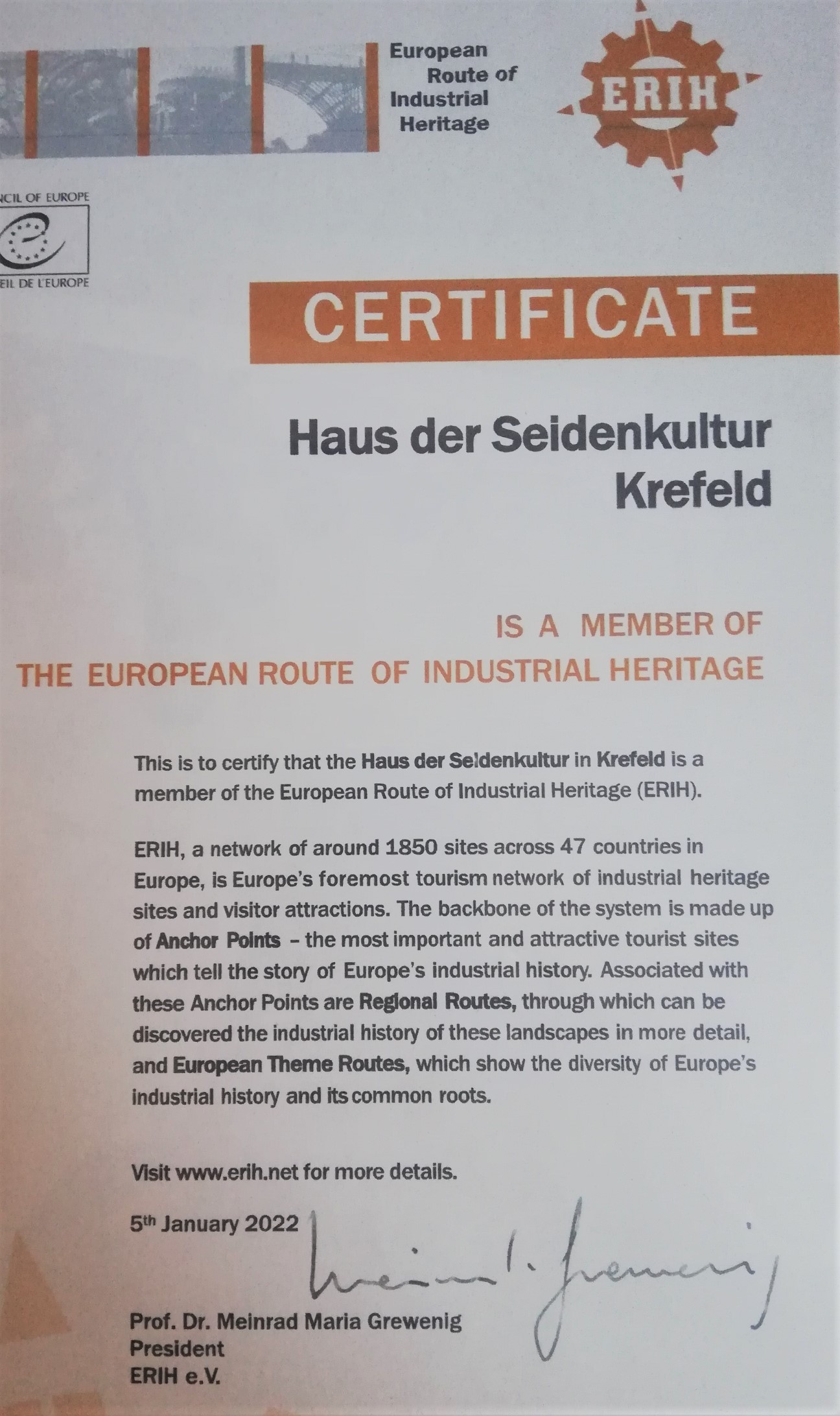 This certificate indicates that Haus der Seidenkultur is now on the European Route of Industrial Heritage.