The Bauhaus student, textile designer, graphic designer, artist and university teacher Prof. Annette Pöllmann died on October 16 at the age of 96 . This sad news reached the public these days from our House of Silk Culture (HdS), where the Bauhaus icon enriched the museum's advisory board with her diverse artistic skills.
For many, Annette Pöllmann was the Bauhaus student who had studied with Georg Muche and Elisabeth Kadow and was a professor at the Krefeld Textile Engineering school (later Niederrhein University of Applied Sciences) demanded the highest quality from its classes. For others, she was the pioneer of silk painting, the tirelessly creative person who, when invited, asked her guests to draw the radishes at the buffet before they were eaten because they glowed so appetizingly red.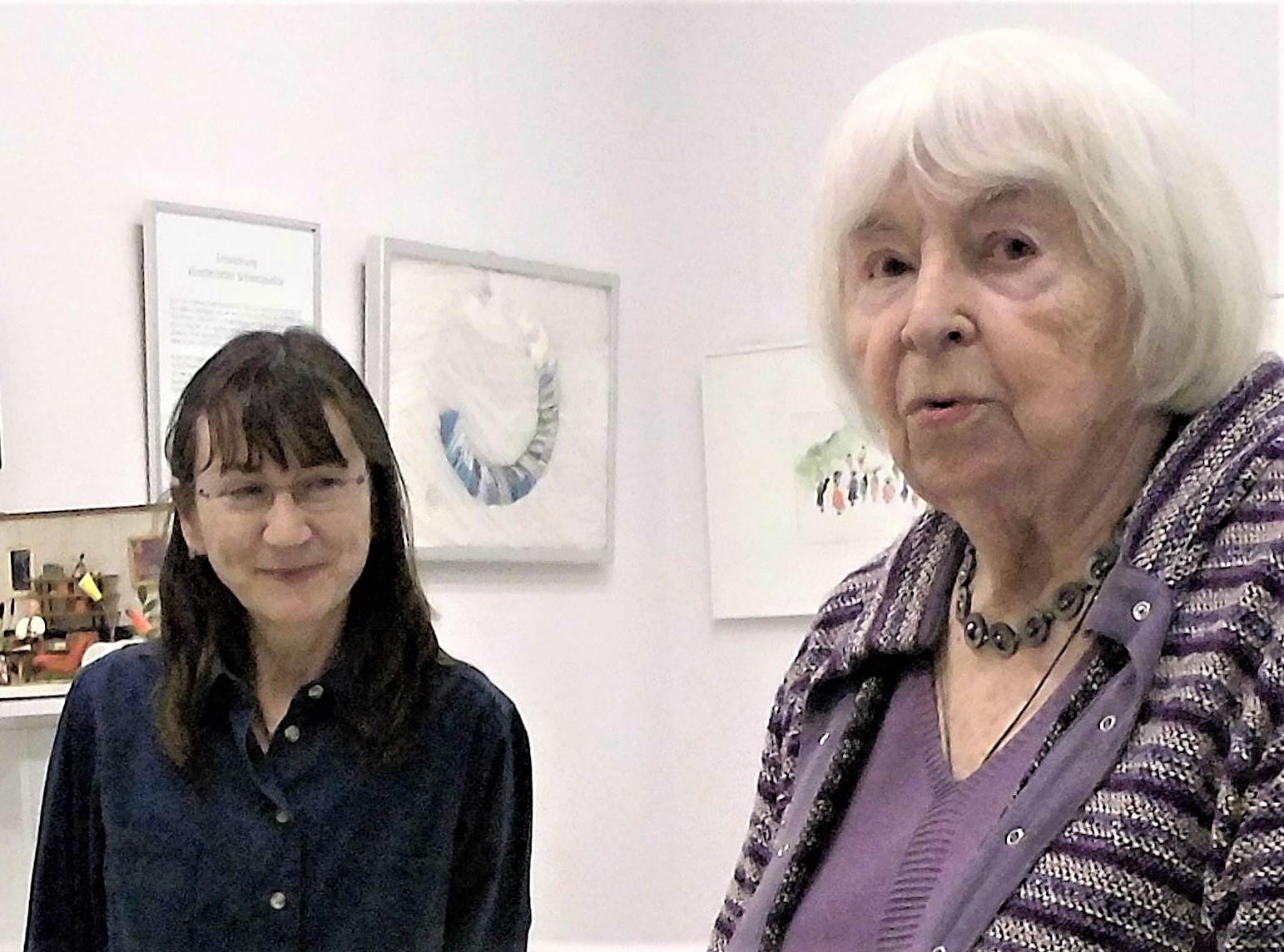 Annette Pöllmann (right) opened in 2017 together with curator Ulrike Denter the exhibition "When the patterns learned to walk".
"Everyone will remember her warmth of heart, her incorruptible judgment and her fine sense of humour," writes Petra Diederichs in an obituary in the Rheinische Post. And: "Annette Pöllmann, who has made a name for herself beyond the borders of Europe, was always creative - almost until her last days." She was constantly looking ahead and looking for something new.
The advice she gave, especially to young people: "People, never give up, even if you have to face defeats !" And she knew what she was talking about: as a university graduate she had to deal with 113 rejection letters when she was looking for a job because, as a "wild Picasso", she was once again a step ahead of her contemporaries with her ideas.
Since her retirement, she has increasingly used the Haus der Seidenkultur as a platform for her textile art over the past decade. "When the patterns learned to walk" was one of her last major exhibitions in 2017, which she organized together with Dr. Ulrike Denter curated. This collaboration grew into a great friendship between the two textile workers.
"With Annette Pöllmann, a large chapter of Krefeld's textile culture is being buried," says our museum director Hansgeorg Hauser, who in May of this year together with Pöllmann opened the current exhibition "Iridescent pearls hanging by a thread". The exhibits came from her sister Margarete Schumacher.
The "Queen-Mum" of silk culture, as Pöllmann was dignified in our museum circles, spent the last few weeks at the "Bonhoeffer -A house". The funeral will take place in the middle of next week with your family in your birthplace in Iserlohn.
"But her path in life led Pöllmann to Krefeld early on," says Christian Oscar Gazsi Laki, Head of Culture at WZ, leafing through the artist's biography Among other things, she studied free graphics at the Düsseldorf Academy, until she became a professor at the Niederrhein University of Applied Sciences in Mönchengladbach in 1972, where she taught textile and clothing technology with a focus on textile design.
"The life's work of the multi-talented artist will always live on in the House of Silk Culture," says the obituary of the museum's mourners.< /span>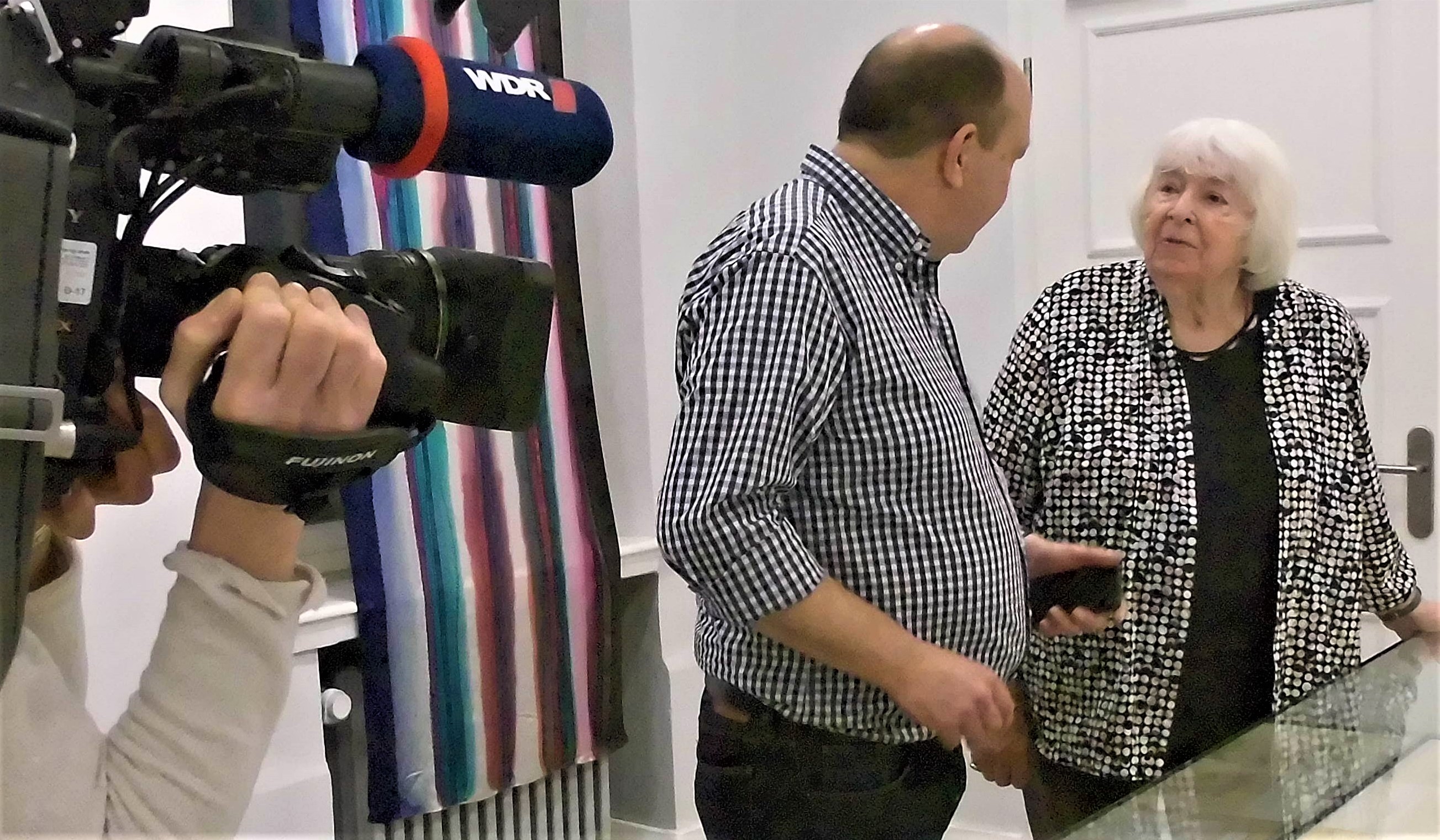 Annette Pöllmann stood in front of the television camera several times in the House of Silk Culture . Here in conversation with WDR author Helge Drafz.
HdS photos: Brenner