So that an old loom can be snapped up again
"We are urgently looking for a harness maker!" This call for help comes from the Haus der Seidenkultur (HdS), the former parament weaving mill Hubert Gotzes where a "Schnellschütze" - a wide loom from 1965 - is currently being renovated and equipped with a new harness.
The harness is the pulling device that connects the cords of the sley - in front of the weaver - with the upper part of the loom . With the Jacquard machine, which ensures that the individual threads are raised or lowered during weaving. This weaving technique developed by Joseph-Marie Jacquard in France in 1805, which - in contrast to the dobby loom - can control all threads individually, allows the production of complex patterns.
Such a suit of armor is now being replaced on one of the nostalgic looms in Europe's oldest jacquard hand weaving room, where the drawstrings are simply showing their age. Now there is a new suit of armor, but not the promised suit maker from the Czech Republic, where the rare item for the Krefeld Museum was made.
"Adverse circumstances have led to this situation," says HdS spokesman Dieter Brenner, who is now on the lookout for a harness maker across Germany could help the weaving experts in the museum with the renovation of the loom. Brenner: "It is necessary to thread 3,200 threads - which are controlled by 400 sinkers with eight repeats - in the truest sense of the word." And: "Even in our velvet and silk city there should still be numerous harness makers who once worked in Krefeld were."
Whoever helps out in the nostalgic weaving room at Luisenstraße 15, so that a snip-snip can soon be elicited from the "quick shooter". , please contact the museum on 02151-9345355. Or by email to This email address is being protected from spambots. You need JavaScript enabled to view it.< /p>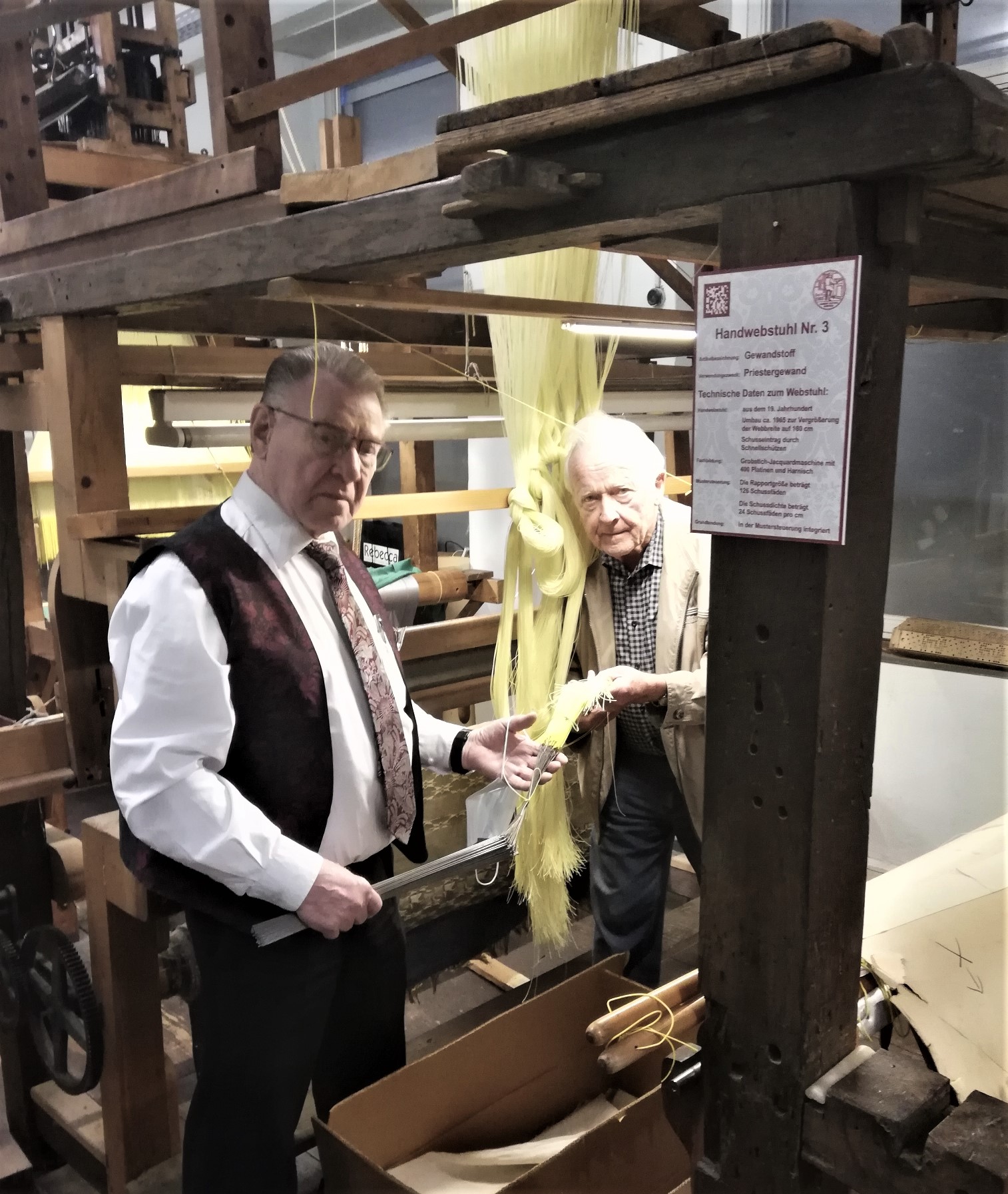 Desperate expressions on the faces of Manfred Weisters (left) and Christian Beckers. The two weaving experts work on a voluntary basis in the House of Silk Culture, where they are waiting for a harness maker who can thread 3,200 cords correctly on one of the old looms in Hubert Gotze's former parament weaving mill.
HdS photo: Brenner