First collection from Haus der Seidenkultur sold out in no time
The run on the silk scarf which Haus der Seidenkultur (HdS) had made for the Krefeld Zoo as its contribution to the rebuilding of the ape house was tremendous. "Shortly after the publication the silk scarf in an edition limited to 500 was sold out", says chairman of the museum, Hansgeorg Hauser.
Via the social networks, zoo friends from abroad were also informed about the unique item. "Orders from various different countries in the world, even China, were received in the online shop," says Hauser, very pleased about the overwhelming resonance.
"For this reason we have decided to have a second "ape scarf" made," said Hauser announcing the production of a second silk twill scarf with different animal pictures from the burnt down great ape house. The photos were taken by the zoo photographer Hella Hallmann. HdS was once again able to win over designer Annika Balter from the advertising agency "Mediacolor" for the graphic design.
"This current silk scarf is even more colourful and fresher", says Hauser reflecting on the new collection which has been limited to one thousand. Ten euros of the sales price (28 €) of each scarf will go to the fund set up by the Krefeld Zoo to finance the rebuilding of the ape enclosure.
"In order to facilitate the entire billing process for our staff", the customer pays € 28 and ten euros are put into a specially positioned donation box as direct donation (our photo).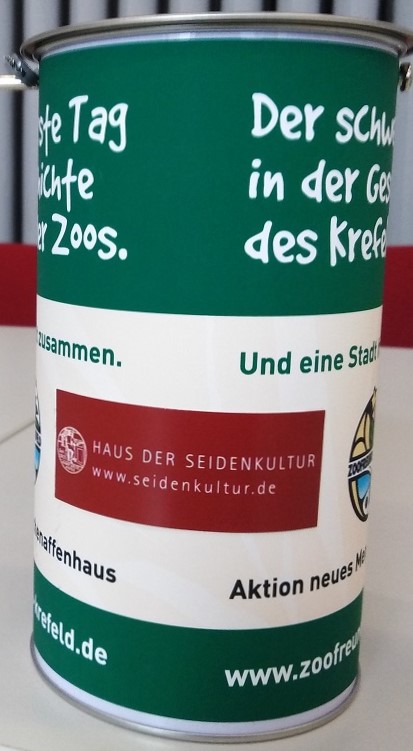 HdS has found the following sales partners for this donation action: Bookshop Mennenöh, Rheinstraße 70; Becker-Wittig Estate Agents, Ostwall 111; Hafels Interior Design, Kölner Str. 532 (Fischeln); Copy Wolf, Oberstr. 34 (Uerdingen); Optician die brille, Krefelder Str. 32 (Hüls); Haus der Seidenkultur, Luisenstr. 15.
In addition the silk scarf, dimensions approx. 70 x 70 cm, can be purchased from the HdS online shop. The link is:https://seidenkultur.de/shop/online-shop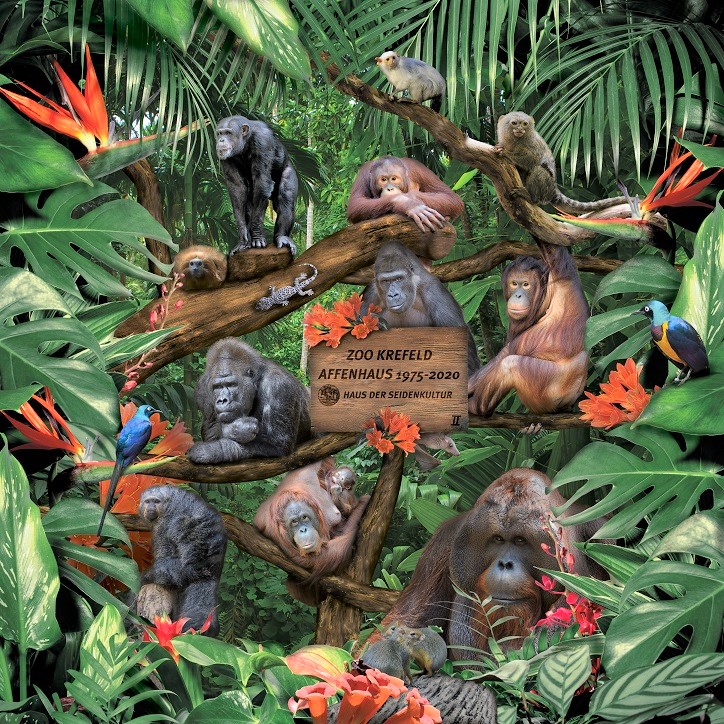 Haus der Seidenkultur has had a second edition of the silk twill scarf "Ape House II" produced so that even more donations are received.
Photo: HdS