"Cloth face-masks are better than nothing", is the message from many institutions which are waiting in vain for supplies of protective utensils. Against the background of this development, Haus der Seidenkultur (HdS) is adopting the mask. That is: "Our volunteers who were yesterday busy with products made of silk and velvet are now beginning to make face-masks", says museum press-spokesperson Dieter Brenner.
Strictly speaking it is makeshift mouth and nose protection which, it is true, doesn't meet the standards of the Robert Koch Institute (RKI) "but nevertheless serves as a suitable alternative", according to Brenner.
And: "In our own stocks we have a great deal of cotton cloth which is needed to make such masks. However anyone who has bedsheets or table cloths which they no longer need can support our project by giving these to us."
Those who have cotton cloth to donate to HdS should contact the museum by telephone under 02151-9345355 or send an email to This email address is being protected from spambots. You need JavaScript enabled to view it..
The cloth face-masks will be donated to Caritas in Krefeld. "Primarily we are considering supplying our employees with the masks for their private use", says a spokesperson for Caritas. This group of people who come into direct contact with older and sick persons are particularly important. In a senior citizens' institution the masks could only be used in an extreme emergency.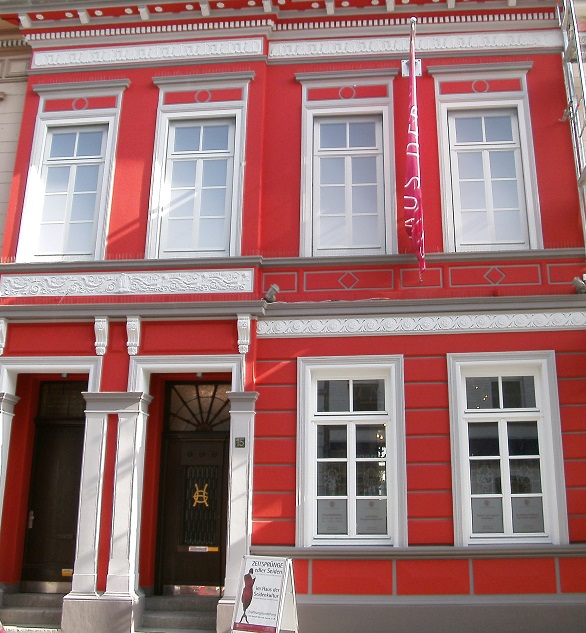 Behind the facade of the museum in Luisenstraße 15, thoughts have been given to the type of support the volunteers can provide during the Corona crisis.
Photo: HdS.