(veröffentlicht am 19.05.2020)
Now Corona has also put pay to the Flax Market which cannot now take place around Burg Linn at Whitsun. Instead our museum will be open from Whit Saturday to Whit Monday from 13.00 to 17.00 hours. In addition the event organiser in Linn will release a virtual flax market just before Whitsun. There the exhibitors have an opportunity to present themselves in the Internet.
Every year our team from Haus der Seidenkultur booked the spinning room in the castle where the click-clack of the loom could be heard and splendid silk from Krefeld was on show.
In the castle courtyard the path of the silkworm right up to silk thread was shown (our photo). It was not only astonished children who experienced how the silk thread was rolled, that is to say, reeled from the cocoon. For anyone who would like to experience this process in peace and quiet there is an interesting brochure with many illustrations to be found at the museum. A cocoon is also awaiting our museum visitors at Whitsun and we guarantee you silky/velvety experiences.
Anyone who wants the virtual experience of the 2020 Flax Market should click on the following link: http://www.flachsmarkt.de/handwerker/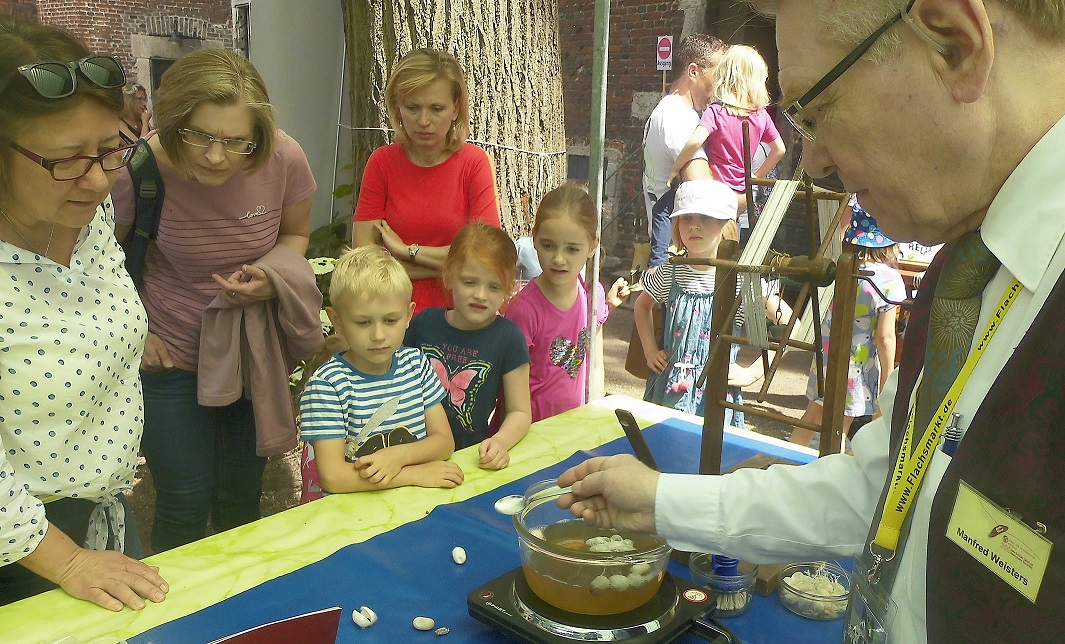 There is excitement in the castle courtyard when Manfred Weisters demonstrates how to reel silk from a cocoon..
HdS Photo: Brenner